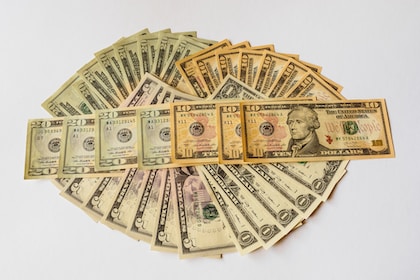 If you want to get your life together at 40, one of the things or realities that you must reconcile with right now is that you're not too late and anything is possible. 
At 40, you might just be the perfect age to turn things around forever, and for your own good. 
You're not too old, you're definitely not too young. 
Recommended: How to Make $5,000 a Month Working from Home: 11 Proven Ways
But I'm serious, you're not old. 
40 is perfect. 
Mayweather is 46 at the time of the writing, and he's still killing it in the boxing ring. 
I can't begin to list out the names of people who changed their lives at 40 years of age. 
From 0 to 39, nothing happened. 
At 40 was the turning point. 
So, if you want to learn how to get your life together at 40, I've got you on this. 
Here are 10 results-driven (kind of metaphysical) hacks. 
How to Get My Life Together at 40: 10 Life Hacks for a Fresh Start. 
1. Find your purpose. 
"Your purpose in life is to find your purpose and give your whole heart and soul to it
First things first, you need to discover yourself. 
There's every chance that you don't know why you're on the earth even at 40. 
It's not too late and maybe now is your perfect time to know. 
Discovering your purpose and what you're wired to do is the first step to getting your life together at 40. 
If you miss this one, then you'll spend the rest of your life trying to be everybody else. 
By discovering yourself, you'll know what you are, and most importantly, what you're not. 
2. Decide what you want to be. 
Once you're done discovering yourself and finding out what you're truly cut out for, then you can choose to run in that direction or multiple other directions because you could be many things; many similar things. 
In today's world, the prospects of having multiple drives or visions are high and juicy. 
So, if you're cut out for speaking, there are several career paths there – public speaking, host, life coaching, motivational speaking, video content creation, podcast host/organization. 
So, it's up to you to decide what you want to be once you discover yourself. 
If you're cut out for writing, you can't write about everything from fiction to nonfiction. 
Place these boundaries so that it's easy for you to educate yourself and excel. 
3. Reconnect; build your network. 
The people you surround yourself with will impact you either positively or negatively. 
So, at this point in life, you should work with and befriend those who are already ahead of you in life regardless of their age. 
If you have old friends who are also prospering and contributing positively to the society, reach out and reconnect with them. 
At 40, you already have a lot of experiences. 
By now, it's not the time to meet up with jokers and weak minds who barely see beyond their fence. 
Make friends with the rich, build your connection and develop people skills at this point. 
4. Set goals & build the right habits.
Set your goals and develop a work habit to reach your goals. 
So, if you want to be in a position in the next couple of months or years, sit down and plan it out. 
Write out how you'll be able to reach there and what you can do to reach there. 
Even with the most perfect plan, habits still come in the way. 
You have to be intentional about trashing your old habits (if they're not helping) and replacing them with new habits. 
Trust me, it won't be easy but it's nothing you can't shake off with enough passion and zeal to succeed. 
Do you want to succeed as badly as you want to breathe? 
Then you'll have no excuse to not succeed. 
5. Set priorities for success. 
If you're married, your spouse and kids are there for you. 
Prioritize them. 
If you're separated or divorced, then you can prioritize the need to succeed and draw your strength from there. 
Everything and everyone isn't equally important to you. 
You need to know what comes first, if it's your spouse, your kids, or your business or your rebirth process. 
So, in all things, set your priorities. 
Don't drift. 
40 is the age to be honest, straightforward, and if you must achieve anything beyond mediocre, identifying and prioritizing priorities is important..
6. Work out. 
They say working out has a lot of good that it can do to your mind. 
It wouldn't hurt to try it out. 
Build focus and psychological coordination by working out. 
Now, you don't have to do some of the most critical workout exercises. 
You're not preparing for a boxing match, you're only trying to build focus. 
Make a routine out of your workout exercises and stay consistent to see positive results. 
While there are several benefits of working out, the ones you'll benefit from early and later in time are the health benefits. 
7. Get a job. 
You're not too late – take it as a reminder again. 
Now, you're on the path to setting up the cornerstones of your life again at 40. 
You need to have money and one way to get it is to work for it at first. 
So, with your qualifications, get a job. 
What getting a job with or without your academic certificates does is that it puts you in the company of other people. 
You'll need to develop the ability to work well with others if you must succeed and make waves. 
Plus, working a day job is another way or avenue to build up your professional portfolio. 
Getting a job is one of the quickest ways to start getting paid or to start receiving money regardless of the stage or your life or your age. 
Other than the money and the need to build team spirit, there's also a need to work with time and to stay organized – a job helps with this too. 
You don't go late to work, you don't do what you feel like doing – you'll need this level of timeliness and coordination to push through. 
8. Start a side hustle. 
On the side of getting a job, you can start a side hustle to make some more money. 
While your job can happen in the day time, start a side hustle on the side to generate passive income. 
At 40, passive income streams are what you should really strive to build. 
In other words, channel your efforts towards building sources of income that generate money for you even while you're asleep. 
This is passive income, and there are several side hustles that guarantee it. 
From starting a blog to selling affiliate products online, there are several side hustle ideas to generate passive income in your 40s. 
9. Invest in the stock market. 
From the job and the side hustle, invest into the stock market. 
This might be a tricky one, but the concept of investment in the stock market is wrapped around posterity – future gains. 
Not the moment. 
So, if you're putting money in the stock market, you'll need to take your mind off it and let it grow over the coming years. 
But before investing in the stock market, you'll need to understand what the stock market is and how to invest in it. 
With the avalanche of stocks out there, it can be overwhelming to choose the right market to invest in. 
Thankfully, you've got me. 
And I'll recommend that you invest in the S&P 500 stock index. 
Recommended: How to Make $600 a Week: 10 Proven Methods
10. Learn the ways to trade. 
Lastly, getting your life together at 40 doesn't mean you should be linear and resist modern money trends. 
One of the money trends and skills you'll need to pick up at this age before you're 45 is the skills to trade the financial markets, particularly stock, forex and crypto. 
For me, 40 is the age where you'll be able to understand many of these things easily. 
Your mind's more developed and your desperation is just lit enough to fire up the passion to learn anything that's going to shape and change your life positively (and financially). 
Learning to trade the financial markets is a must if you must be better at 40+ much more than all the other years you've lived.  
How to Get My Life Together at 40: 10 Life Hacks for a Fresh Start – Final Words. 
You've come through to the end of this blog post and I'm sure you've learned something you can work with or stand by. 
The lesson is, you're not too old and you can be your own star at 40. 
Some of the ways to get your life together at 40 years of age include finding your place in this world, deciding what you want to be, reconnecting and building your network, setting life goals, identifying your priorities for success, hitting the gym, getting a job, starting a side hustle, investing in the stock market, and learning to trade the financial markets. 
It's a whole lot to take in, but start from somewhere right now. 
Building habits and setting life goals could be your first step or finding your purpose could be your first. 
For me, I want you to set your priorities starting from this moment. 
Similar posts like this one
Working a 7am to 8pm school & home teaching job in 2021 to make $121 (£94.20) per month, I quit my job to focus on blogging after I earned by first $3 (£2.34) bucks a month from this blog passively without sweat. I never looked back since then. I've written for a couple of websites including Thestrive.co and I've come clean to unveil what works and what doesn't in the real world with regards to making life-changing money. Potentstack is my side hustle turned full-time project where I spill every realistic hack to make money in the real world (online and offline).
Want to learn how I make money blogging? Click here.