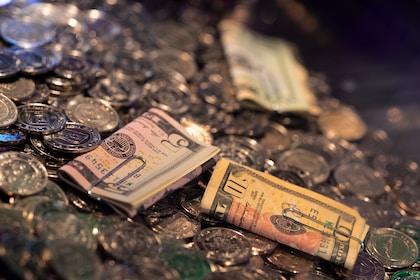 Are you looking for the best ways to make $150 online? 
I totally get it. 
It's a possibility and I'm not going to ask you to take surveys or register for some program to earn a quick $150 bonus online. 
Far from all the generic surface ways to make $150 online.
Recommended: 9 Best Jobs that Pay $15k a Month
In this post, I'll share 9 real ways to make $150 dollars on the internet. 
Most of these ways can guarantee you passive income in the long run. 
They're also sustainable self-employed jobs that are scalable. 
At least most of them are. 
Before sharing more light on these realistic ways to make $150+ dollars online, here are some of the questions you're probably asking right now or have asked once before. 
And the answers to them. 
If you have more questions not here, don't hesitate to ask them in the comment box. 
How can I make $150 instantly?
Instantaneously earning $150 bucks is not a realistic goal. 
Maybe you want to tailor this desire to making $150 fast, not instantly. 
If it were this easy or realistic at all, then everybody else would be making $150 dollars instantly. 
However, if you're looking to make $150 fast, then you can really do that by writing online as a freelancer, taking jobs on Indeed.com that pay up to $150 (a day or less), and trading the financial markets. 
How can I make $100 a day on the Internet?
Firstly, start by becoming a freelancer. 
If there's a skill you have in spades, you can sell it as a freelancer on freelance marketplaces like Fiverr, Upwork, and Flexjobs. 
You can also take remote freelance jobs on Craigslist and Indeed.com. 
Other ways to make $100 a day on the internet include starting a blog, launching a dropshipping store, and selling items online through an ecommerce store or marketplace like the Facebook Marketplace, Etsy, Depop, and Amazon. 
How can I make a quick $100?
Making a quick $100 bucks isn't very realistic. 
However, this depends on how quick you mean. 
It's dependent on the definition of "quick". 
If it's right now, then that's just impossible. 
To make $100 dollars fast, you can take freelance jobs online like writing and proofreading. 
You can also sell your stuff (clothes or printables) online on Facebook Marketplace, Etsy, and Amazon. 
Running offline gigs like pet-sitting, babysitting, and house cleaning can also make you $100 bucks quickly (but maybe not as "quickly" as you're thinking). 
How can I get $200 fast?
There's no "QUICK" way to get $200 dollars. 
Realistically, you can make $200 dollars trading the financial markets. 
Options trading can also make you $200 bucks if you're a day-trading guru. 
You can take surveys for a really long time online to make $200 bucks. 
In the office world, you can make $200 running errands on Taskrabbit, or taking remote and offline jobs on job boards like Indeed.com that pay up to $200. 
With all that put into perspective, here are 9 realistic ways to make $150 online in the 2020s. 
How to Make $150 Online in 9 Realistic Ways. 
1. Start a blog. 
If you want to learn how to make $150 dollars online, then starting a blog is one of the best options to explore on this list. 
Blogging is one of the top businesses anyone can start up today. 
You can generate passive income, build an audience, and even create a series of sellable tutorials on a blog. 
Now it doesn't cost a lot of money to start one, and you can do that with just $100 dollars. 
There's a learning curve to blogging the right way, and I cover that completely in this free guide. 
So if you want to start blogging right now and learn to do it the right way, read up the complete guide to starting and growing a blog right now. 
2. YouTube. 
On YouTube, you can make money passively. 
It doesn't happen fast. 
In fact, it takes a lot of time to build a YouTube until it generates up to $150 passively. 
To get started with YouTube, you'll need to settle for a niche and create better video content for a long period of time. 
Not a decade. 
Fear not. 
But for the next 6 to 9 months, you want to consistently cover a niche with better video content and affiliate links in your video descriptions so you're earning from affiliate sales and ad revenue. 
3. Copywriting. 
Copywriting is a unique skill in the writing arena. 
It's writing to make people see the reason they need something. 
Even when they don't. 
Basically, copywriters write commercials and captions for products. 
They're highly paid as self-employed, and you can become a copywriter by honing the compulsive arc of your writing skill. 
It's easy to make money as a good copywriter. 
You can get copywriting freelance gigs on Craigslist, Fiverr, and Flexjobs. 
Alternatively, you can also get remote freelance jobs on Indeed.com paying up to $50/hour (or $150+ a day). 
4. Sell printables on Etsy. 
Etsy is a place online to sell just about anything. But one of the things that sells a lot on the ecommerce store is printables. 
If you can make them, then you can start selling yours on a personalized store on Etsy. 
It's free to create an account, and yes you can make more than $150 online in a day selling printables on Etsy. 
If you want to gain complete control of your items and business, then you can start an online store of your own and promote your printables from there. 
5. Sell photos online. 
Another way to make $150 online is to sell photos. 
If you're good at photography, you can start a photography store in the form of an ecommerce store for people to buy photos. 
While that's more expensive to start up, it'll make you more money. 
Alternatively, you can sign up on websites like Shutterstock, Alamy, and Adobe Stock to sell your photos. 
The more photos you have that are worth buying, the more income you'll generate. 
6. Design t-shirts. 
Are you great at designing things? 
Then you can make up to $150 online designing t-shirts and hoodies on Teespring. 
It's a print-on-demand service that prints t-shirt designs by designers like you. 
You can create an e-store on Teespring and have hundreds of t-shirt designs on your store. 
To make more money on Teespring, you can frequently promote your store to your contacts, and on social media. 
It doesn't cost a dollar to sign up and start designing t-shirts on Teespring. 
And it's not just Teespring you can do this on. 
There's a list of alternatives like Merch by Amazon and Redbubble. 
7. Start dropshipping. 
Dropshipping is building an e-store and importing products from other stores. 
The good thing about dropshipping is that you can do it without having to buy any real product. 
You're basically redirecting sales or orders to another ecommerce store but you add the prices to your own products and you handle customer service. 
Building a dropshipping store is easy with Shopify, and it takes some time to really get your store in front of millions of people. 
If you're looking at $150 dollars, then it could take a shorter time. 
8. Trade stocks. 
On the trend of the web right now is stocks trading and all the good things that came after – crypto, and more. 
So the thing is, you can make a ton of money from trading the stock market. 
But before going into the route, you'll need to learn a ton about trading stocks, risk management in the stock market, and other strategies. 
Other than just trading stocks, you can invest big time into the market and watch your portfolio of investment grow over time. 
Whether you're trading it profitably or investing for long term goals, you can definitely generate over $150 bucks doing it right.
Recommended: How to Make $160 a Day in 12 Realistic Ways
9. Options day-trading. 
Options trading is one of the ways to make $150 dollars online. 
It's easy money if you already know to trade the options market. 
And it comes with a lot of risk too. 
However, it's not a kind of self-employed job that can make you money passively. 
But you can stay indoors, trade, and make money if you're a good trader. 
Trading the options market requires you to have some good level of understanding of the market first. 
So, you want to learn it thoroughly before going in full. 
Plus, you'll need to stick to a working strategy every time. 
How to Make $150 Online in 9 Realistic Ways – Final Words. 
Here you have them – the most realistic ways to actually make money up to $150 online. 
Truth is, there are lots of things you could do online to make $150 dollars.
Things like taking surveys, playing games, and signing up for programs. 
But then, it'll take you a lot of time to make even $5 dollars taking surveys and doing all of these things. 
If you want to learn how to make $150 online, then the self-employed jobs on this are the best and they're mostly passive income streams. 
In other words, you can make much more money than $150 online without having to always work or get active online. 
Similar posts like this one
Working a 7am to 8pm school & home teaching job in 2021 to make $121 (£94.20) per month, I quit my job to focus on blogging after I earned by first $3 (£2.34) bucks a month from this blog passively without sweat. I never looked back since then. I've written for a couple of websites including Thestrive.co and I've come clean to unveil what works and what doesn't in the real world with regards to making life-changing money. Potentstack is my side hustle turned full-time project where I spill every realistic hack to make money in the real world (online and offline).
Want to learn how I make money blogging? Click here.