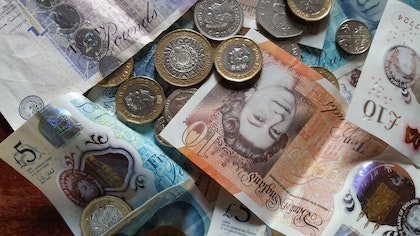 If you want to learn how to make £200 fast in the UK, then you're on the right page. 
On this page, I'll show you the best and most realistic ways to make £200 pounds in the United Kingdom fast. 
Recommended: How to Double Your Money in the UK: 10 Realistic Options
But not so fast like the flash kind of fast. 
Today, it's easy to make money if you've got some leverage. 
It could be your skill, your vehicle, or your house. 
Anything that you have in your possession can make you money. 
Thanks to the internet, it's now easy to search for people who need your services, and reach them. 
That aside, making £200 fast in the UK is a possibility. 
And if you can do this every single day, you'd have a total monthly income of £6,000 pounds. 
While this isn't the kind of money that lands you on Forbes billionaire's list, it's definitely enough to sort bills and live off comfortably. 
Many of the jobs on this list aren't passive income.
But if you want to make up to £6,000 a month in the UK passively, then that's a different ballgame. 
With that being said, here are 8 best ways to make £200 fast in the UK. 
How to Make £200 Fast in the UK: 8 Best Ways. 
1. Run random tasks. 
If you want to learn how to make £200 fast in the UK, then you should start running random tasks. 
These tasks are indeed random because well, random people put them online. 
You don't need to have any special skill or a degree to make money off running tasks in the UK for money. 
Websites like Appen, Clickworker, TaskRabbit, and Mechanical Turk by Amazon will pay you instantly to run remote tasks for random people. 
These people remit the money into the platform, and once your completion of the task is verified, you get paid. 
You can run multiple tasks in one day and make as much money as you can within the scope of time. 
You're not going to become a millionaire from running tasks here and there in the UK. 
But for sure, you can make £200 pounds fast while doing this. 
2. Flip websites. 
Website flipping is buying a website and reselling it. 
That's the concept behind flipping websites. 
Once you're done learning to do this efficiently, then you can make a ton of money from doing it consistently. 
It takes more than a day to complete one successful transaction. 
Sometimes, weeks. 
Or months. 
Basically, you want to buy websites worth buying and flip them over the course of a week or more if you want to make money fast with them. 
But if you want to make life-changing money, you'll need to spend more buying top-notch websites that you can resell for thousands of dollars and get 4-figure gross profits. 
Or 6 figures. 
This however will cost a lot of money. And time. 
3. Mow lawns. 
Lawn mowing in the UK is one of the many things you can do to make money up to £200 pounds fast. 
It doesn't require any special skill to get started with this. 
All you really need to do is to get the equipment required for mowing lawns. 
If you can't get everything, some clients you'll work for will have everything in stock. 
Plus, you don't need much and it doesn't cost a million bucks to start this. 
Just by mowing lawns, you can make a living in the UK. 
But you'll need to consistently get gigs from day to day just to make enough money. 
If you're thinking about making money fast, up to £200 in the UK, then you should really consider mowing lawns. 
4. Options trading. 
While this can be risky to the extreme, you can make a lot of money from trading the options marker. 
Other than taking pointless surveys and picking off bonuses in cents from different websites just to make £200 fast in the UK, you can do this with a single trade on a reliable options broker. 
Although a ton of options brokers are inoperative in the UK, you can still trade options with some of the best options brokers in the world. 
If you're new to the world of trading, then the very first thing you want to do is to learn to trade the options market. 
Without this knowledge, you'll end up giving money to the market over and over again. 
It takes patience to learn to trade financial markets online. 
Only then can you really grow any budget you have at hand. 
If you're a master or a guru trader, you can grow small accounts from £100 to £1,000 and then to £10,000 pounds. Even £100k. Knowledge is the primary thing here. 
You can't make £200 fast in the UK trading options without having at least the fundamental idea about it. 
7. Ride-sharing. 
If you own a car, then you can make £200 fast in the UK by driving for Uber or Lyft. 
This way, you pickup customers from different locations across the city and take them to their desired destination. 
Uber (or any other ride-sharing platform) charges them for the trip. 
In the UK, a lot of people make a living off driving or working alongside ride-sharing services. 
And some of the best ride-sharing services out there include: 
Uber 
Lyft 
GoJek
Careem
Ola
Via 
With all of these softwares offering similar services, you need to stick to the most popular two; Uber and Lyft. 
They're where your clients are.
And they've got the largest database of users and drivers around the world. 
6. Trade crypto. 
Coming with a lot of risk is the option to trade crypto. If you're good at crypto trading, then it'll be easy for you to make money from it big-time regardless of your location. 
The first thing you want to do however is to learn to trade the crypto market. 
It's profitable, but if you don't want to throw away your money and end up losing instead of making money, then learn to trade the crypto market first. 
However, you'll need capital to begin trading the markets. 
It's not free, and you want to start out with a demo trading account first before putting your money in there. 
If you're ready to start trading crypto right now, here are some of the best brokers to sign up with today and they've got the best features and interface for trading too: 
The first thing you want to do is to learn to trade crypto. 
Afterwards, you can focus on a particular winning strategy. 
While you can't completely take the risks out of the crypto market, you can minimize it by implementing risk management techniques. 
7. Landscaping. 
In the United Kingdom, some landscapers get paid up to £100 an hour. So, if you're working 2 hours as a landscaper, that's already £200 pounds. 
IMO, two hours is pretty fast. And if you're earning £200 in 2 hours, that's a lot of money. Plus, it's quick.
To become a landscaper, you'll need to learn it big-time. It's not something you learn to do online as it requires practice. 
And a lot of it to really get good with designs. 
There's a ton of on-the-job activities you'll need to get the grasp of when learning to design landscapes. It's costly to learn it. 
Not just money, but time. On average, it takes a year to learn enough landscaping for you to become a professional landscaper. 
Or an expert one.
As a landscaper, you can get gigs by telling the people around you what nature of services you offer. 
You can also get gigs online using job posting boards like Indeed, Google Jobs, and Craigslist. 
Recommended: How to Turn £10k into £100k in the UK
8. Freelancing. 
If you want to make £200 fast in the UK, then you can do that with freelancing. 
I'm not saying you can make £200 pounds instantly in the UK on your very first day as a freelancer. 
But with time, you'll definitely get gigs that pay much more than £200. 
If this term is new to you, freelancing is a form of selling your skill online to people you've never met in your entire life before. 
As a freelancer, you get paid to get something done. 
So, if you're a writer, programmer, graphics designer, or some expert in an area of specialization, you can get paid to help people out with the service you're a master in. 
You're the asset in this case and people pay you for what you have to offer. 
To get started as a freelancer, look for the best marketplaces online for your skill and sign up. 
Generally, Upwork and Fiverr are two of the biggest freelance marketplaces for basically any skill. 
And it's free to sign up. Now, it's challenging to start getting jobs instantly, but give it time. 
How to Make £200 Fast in the UK: 8 Best Ways – Final Words. 
Still wondering how to make £200 fast in the UK? 
It's a realistic fit. 
You can become a driver for Uber and earn up to £200 pounds working long hours of the day. 
Another option is to become a freelancer and sell your skill. 
Whatever skill you have, whether it's writing or designing graphics, people are willing to pay you for your services. 
Trading crypto on the other hand tags more risk but generates quicker profits if you're on the right side of the trades you execute. 
You can't always be right when it comes to trading online. 
So, you want to learn a ton about trading before actually trading. 
Some other ways to make £200 bucks in the UK quickly include mowing lawns, becoming a landscaper, running random tasks on TaskRabbit or Mechanical Turk, and flipping websites for profit. 
All of these jobs can get you to £200 pounds fast in the UK. 
Some take more time to generate income, others make it happen faster. 
The key however is to focus on one or a few of them for maximum results. 
Similar posts like this one
Working a 7am to 8pm school & home teaching job in 2021 to make $121 (£94.20) per month, I quit my job to focus on blogging after I earned by first $3 (£2.34) bucks a month from this blog passively without sweat. I never looked back since then. I've written for a couple of websites including Thestrive.co and I've come clean to unveil what works and what doesn't in the real world with regards to making life-changing money. Potentstack is my side hustle turned full-time project where I spill every realistic hack to make money in the real world (online and offline).
Want to learn how I make money blogging? Click here.