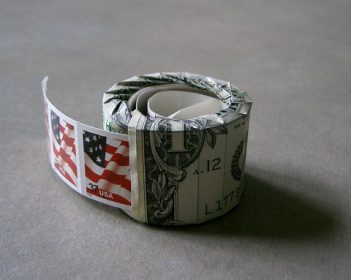 Want to make $300 a week from home? 
This blog post might be all the information you need about the best ways to make this happen. 
Realistically. 
Now, making money from home isn't as easy as a ton of people on the internet make it look. 
Recommended: How to Make $150 Online in 9 Realistic Ways
It's also not the most difficult thing to do, so fret not. 
If you're patient enough, and you're willing to work hard while opening up your mind to a bunch of new stuff, then you might be able to earn over $300 dollars a week working from home. 
That said, here are 9 proven ways to make $300 dollars a week (and even more) working from home. 
How to Make $300 a Week from Home in 9 Proven Ways. 
1. Start a blog of your own. 
Starting a blog of your own is definitely one of the top ways to make $300 a week from home.
Plus, you can decide to start your blog now, and build it slowly without quitting your full-time job. 
If you're taking it up as a serious business, then you can build your blog from scratch to the point where it generates passive income for you consistently. 
Before starting a blog to make money up to $300 a week from home, you need to settle for a niche. 
This niche can be anything from lifestyle, parenting, insurance, health, to personal finance and development. 
Choose a niche that suits your personality. 
This is because you'll be the one creating content from scratch, and if it's not something that resonates with you or you're not writing about topics you're passionate about or have interest in, there's every tendency to call it quits. 
To get started with a blog today (and also to learn how to grow it), here's a free blog growth guide for you. 
2. Trade binary options. 
While trading binary options is another way to make $300 a week from home, it's risky especially if you're new to trading. 
In reality, you can make quick money trading the options market. 
It's a short-term market, and you'll need to take risk management seriously here. 
To make tons of money trading options, there's a need to get familiar with a high win rate strategy and get into trades at the right time without rush. 
If you need to buy a trading course just to get your master strategy, do so (but I'm not really a fan of buying courses online just yet, I'm not there yet). 
And regardless of the strategy, there'll be an inevitable tendency to lose on some trades. 
3. Freelance your skills. 
Just by doing what you're good at, people can pay you on freelance marketplaces like Fiverr. 
So, if you're talented or gifted with a virtual skill like editing videos, then your services are in high demand. 
And it'll be easy to get paid up to $500/gig. 
Plus, you don't need to go out to solicit for gigs or to get the work done. 
With Fiverr and similar platforms like Upwork, you can hunt for gigs you're able to do and apply to get them. 
With a very well structured freelancer profile, there's every chance you'll get more gigs than you can handle. 
The best gigs go to the most experienced freelancers with the most robust freelancer profile and work portfolio. 
4. Crypto trading. 
Just like the binary options, crypto is a risky game if you're starting out. 
Thanks to crypto exchanges like Binance, you can play around with a demo account before you eventually invest your funds. 
So, if you're totally new to trading and you want to make $300 a week from home trading the crypto market, I highly recommend that you take out some time to learn, master your trading skills in the demo account, and eventually invest. 
There's no rush here, and you should be good within 30 days of aggressive learning. 
As a matter of fact, crypto is one of many things online that can make you super wealthy if you master it. 
It's a great way to make money online, and if you don't want to trade or take the risks, you can invest into solid coins and leave them to appreciate in price. 
What's better? 
You can take advantage of futures trading in crypto, invest in solid coins, leave them to appreciate 10× (based on the futures leverage size you create), and take your profits in future. 
5. Sell your products online. 
Yet another realistic way on how to make $300 a week from home is to sell your products online. 
Whatever it is you're good at creating, you can sell them online to make $300/week from home. 
However, I'll recommend you sell digital products like your soundtracks, apps, web tools, or courses. 
Of all the ideas, selling courses is the cheapest option. 
And it takes less of a time compared to selling or creating an app or a web tool. 
Selling soundtracks might not really be a lucrative idea for you unless you already have an online music presence. 
With this in mind, you can create a course, sell it on Udemy, pocket the money. 
And if your course is that good, it can sell for over $500 dollars. 
Which means, with 3 sales a month, you're good. 
6. Amazon FBA. 
To try out Amazon FBA, you'd need to spend some money acquiring products to resell at Amazon. 
It's easy, and there's also a starting fee. 
The concept of this is to buy products in bulk but cheap from an ecommerce platform like AliExpress, and then resell it on Amazon for profit. 
I'd like to call this product arbitrage, but it's just a program by Amazon to help retailers and wholesalers reach more buyers online and sell more products. 
However, you can take advantage of this to make over $300/week from home. 
Amazon handles the shipping and everything, you take your products to Amazon and pay for account maintenance. 
7. Do dropshipping. 
Dropshipping is ecommerce that's oversimplified. 
This is because you really don't have to do anything as a dropshipper. 
All you do is find products people want to buy, import them to your online store using a plugin, and then you can add a markup. 
When people click to order the stuff on your store, the order is redirected to another original ecommerce store (like Amazon), and they handle everything from there. 
There's a steep learning curve to dropshipping. 
If you must make a dime off this business model online working from home, then invest some time to understand how it works. 
And how to not fail at it. 
8. Start a YouTube channel. 
Starting a YouTube channel is one of many things that, if done right, can generate passive $300/week for you and even more. 
It takes time to grow a YouTube channel, and that's just normal. 
From no views or subscribers to getting 20,000+ views on every video, one way to go there is by scaling with content production. 
And by content production, I mean a routine of consistent high quality video production over the long haul. 
This is one of the few cheap and original ways to get a YouTube channel to the place where it's generating over $1,200/month in ad revenue. 
Recommended: 5 Best Jobs that Pay $2 Million Dollars a Year
9. Podcasting. 
Want to learn how to make $300 a week from home? 
Then podcasting is one of the ways to make this work. 
This is simply creating your own radio channel on the internet and having people who get to subscribe to your channel. 
But firstly, you'll need to become a podcaster, and there's a learning curve to this. 
Once you're good at podcasting, you can frequently produce podcasts and even coauthor other podcasts. 
A good thing about podcasting is that it gives you a name. 
If you're all by yourself (or you run your own family as a single mom, dad, or a teen), you can keep a cubicle in your apartment where you organize interviews, talk about controversial issues and make videos about them. 
Podcasting is a great way to also generate side income (or full-time income) passively. 
This is because a podcasting channel is hosted on a blog, and you can choose to monetize your audio blog with ads by agencies like Mediavine, Adthrive, Ezoic, Monumetric, Taboola, Adsense, or Revcontent. 
Or with placing sponsored native ads by individuals/firms. 
How to Make $300 a Week from Home in 9 Proven Ways – Final Words. 
You can make $300 a week working from home and working on the internet if you start up a blog, try out Amazon FBA, get into dropshipping, start a podcasting channel, flip domain names online for profit, trade binary options, sell your products online, start up a YouTube channel, and work as a freelancer (by selling your skills to people who are in need of them on freelance marketplaces). 
Truth is, $300/week is obtainable with these self-employed hustles.
But if you're willing to put in more effort, you can make much more money than $300 bucks a week (or $1,200 a month). 
It's also very realistic to shoot for $5,000 dollars a month with these work-from-home jobs.