From starting a blog to building it to ranking on search engines, and then to monetizing your blog so that it makes you money up to $1,000/month, this guide's got you covered.
Starting a blog is really easy, and to make money from blogging is where to work really is. In just about 12 steps, I'll walk you through all you need to build a blog from scratch to make up to $1,000 in a month within the space of 11 months.
This guide is brief and straight to the point. I made sure it's not a 5,000-word piece full of crap. Everything is well stated in simple steps, and with the click of a few buttons, your blog should be up and running.
This simple straight-to-the-point guide is broken into these 12 steps:
Find your niche. 
Figure out a domain name. 
Get your blog online.
Configure your permalink structure.
Create basic pages. 
Choose a theme. 
Connect to search console & analytics.
Get a list of longtail keyword ideas. 
Write your first 10 (or 15) blog posts. 
Write guest posts on bigger blogs.  
Monetize your blog.
Rinse and repeat steps 8 – 12.
How to Start a Blog that Makes $1,000/Month in 317 Days.
1. Find your niche. 
Your niche is the area of focus of your blog. It's what you want your blog to be all about.
Take for example, Potentstack.com is a digital finance blog, or a blog that teaches people to make money online, invest online and so on; anything that has to do with making money online.
There are business blogs, health blogs, and so on.
What's yours going to be about?
When it comes to picking a niche, a general myth is sticking to your passion or what you love to do. Well, how about if your hobby is a niche that doesn't make any money, doesn't have products people are talking about and buying, and doesn't get a ton of web searches?
That'd be a slap at your efforts. So, when picking a niche in the 2020s, you want to focus on a niche that's really profitable.
There's really no need to talk about what you like unless you don't want to make money off your blog. But if you do, then choose a niche from one of these most profitable niches in the 2020s.
Food
Real estate
Fitness
Make money online
Relationship
Finance
Health
Personal development
Pets
Tech/Gadgets
Gaming
Entertainment
If your hobby falls into any of these niches, then blogging will be a whole lot easier and fun for you especially when it comes to making money.
So, take some time to really figure out what your blog is going to be about. After spelling that out, you want to give your blog a name and register online, which takes you and I to the next step.
2. Figure out a domain name. 
A domain name is basically the name of your blog. Another example, this is a blog you're reading right now. It's in the make money online niche, and the domain name is Potentstack.
So, basically, a domain name is also called a blog name or the name of a website, forum, whatever. In this case, you're starting a blog. And the name of your blog is the domain name. When choosing the name for your blog, make it short and simple.
Your domain name must not always carry the name of the niche you're looking to blog in, but it can be a combo of your niche and a unique word or your own name.
For example if you want into the food niche and your name's warren, "Foodwithwarren", "Warrencooks", or "Kitchenwithwarren" would be great domain names.
You get the idea right?
Your domain name can also be your name in full (if it's not taken). This totally depends on what you're looking at, and your name should be more than 22 characters long. It makes sense to make use of your personal name as a domain name if you'll never have to sell your blog in the future.
This makes it easy for your visitors to get to know you in person, gives you enough flexibility to try out different niches, and it won't tie you all deep in one niche devoid of any chance of switching your niche in future.
Using your name or a name totally unrelated to your niche gives you complete freedom. You get to write about a mix of topics to see where you can succeed in, and a broad domain name (not closely tied to a niche word) gives you the allowance you'll need to explore different topics whether they're unrelated or not.
To wrap it all up, your domain name has nothing to do with how well you rank on search engines, but it totally has a way of making your audience trust you more or less.
How about hyphens and figures?
While you can make use of hyphens and figures, I strongly don't recommend it.
What about the domain name extension?
A domain name extension is the .com, .net, .org, .uk and so on behind the domain names of the blogs you've seen. If you're starting a personal blog, then make use of a .com which is the commonest and most acceptable (and trusted).
Government blogs utilize the .gov extension which is more trusted and academic blogs make use of .edu.
For you, your domain name should use a .com extension. Don't worry much about the other extensions, .com is what you need right now unless you're starting an academic blog, or some other kind of blogs out of your personal space.
3. Get your blog online.
Now that you've figured out both your niche and domain name, it's time to get your blog online. To do this, you'll need to register your blog name and get a web space called a hosting account with Namecheap.
It takes just 10 minutes to get done with the process, and once that's done, your blog will be shiny, new, up and running. Firstly, visit Namecheap.com and select a hosting plan that suits you or cuts across your budget.
Here, select your plan from the 3 plans Namecheap hosting Shared Hosting offers you.
Shared Hosting Plans Breakdown & Discounts.
Staller: $25.88/year (76% off with this link)
What you get
3 Websites
20 GB SSD
30 Domain-Based Mailboxes
Staller Plus: $34.88/year (71% off with this link)
What you get
Unlimited Websites
Unmetered SSD
Unlimited Domain-Based Mailboxes
AutoBackup
Staller Business: $58.88/year (69% off with this link)
What you get
Unlimited Websites
50 GB SSD
Unlimited Domain-Based Mailboxes
AutoBackup & Cloud Storage
If you're low on budget, you can go with the least option on the list which is the Stellar Plan, but if you want more hosting options and features, or you need a more robust hosting service, then I recommend you go with the Stellar Plus plan package as it offers more hosting features.
With the one-year (or 12-month) hosting plan, you'll renew at the original price just after one year.
Here's where you enter the domain name you've coined.
If you have a different domain name already registered with Namecheap, then click on the third option. If your domain name isn't registered with Namecheap, then select the last option.

Click on the "Add to Cart" after verifying the availability of the domain name you entered. If the domain name is already taken, you can keep trying new ones until you get the best one for you that's not yet taken. Plus, you can select how many years you want to register this domain name.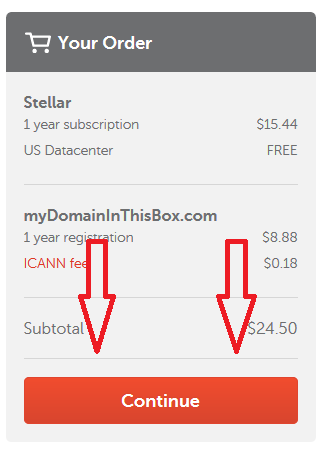 Click on the continue button right on the cart to proceed.
Select the WHOIS Guard option as this enables Namecheap to protect your website validity information and identity too.
After that, proceed to the checkout process and fill out the information to log into your Namecheap account.
Go to the Cpanel on your Shared Hosting package on Namecheap, and click on it.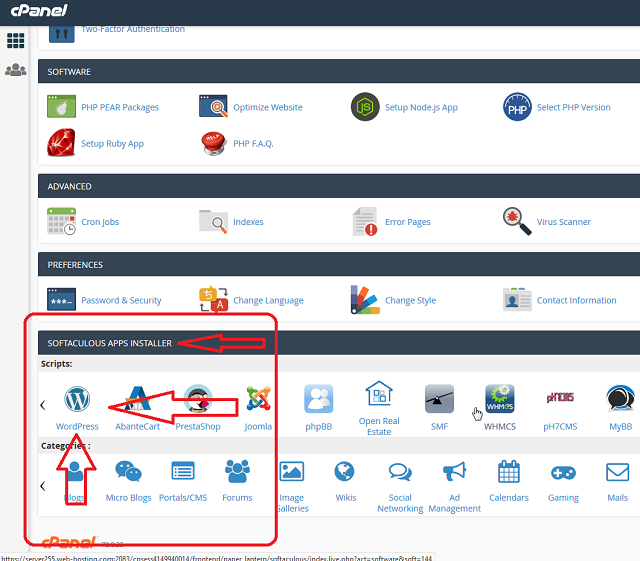 Once in the Cpanel, find and click on the Softaculous Apps Installer session and click on the WordPress icon.
Click on the "Install" button.
Right here, you'll have to fill out the information about your blog like the title, for description, set up a username for your blog and also put it in a directory or path (for example: yourblogname.com/blog). Three critical information you want to get right at this point is your admin username, email, and password. Don't flow with the default info here as the username is not possible to change after here.
Don't worry about choosing themes just yet, but if you must choose a free theme, I recommend you stick with Astra after now. Finally, click on the "Install" button to finish up.
Once that's done, you'll be taken to a page where you have the admin URL to start customizing and developing your blog.
Congrats!
Your blog's live!
What next?
The next set of activities will determine how far you go with your blog. But just before anything serious, create your basic pages.
Start your blog today for just $2.18/month on Namecheap.
4. Configure your permalink structure.
A permalink is just another name for a link or a hyperlink. You want your hyperlink to be simple and easy for search engines to read.
That so, you don't want your links to have dates and numbers like yourdomainname.com/2022/12/09/blog-post-name.
Instead, you want your links to load pages like yourdomainname.com/post-name. This way, search engines understand your permalink structure better and it's easy for the search engines to tell what your page is about, and rank it accordingly.
When writing your blog posts, pay close attention to your permalink, and use the keyword you're trying to rank for in your permalink instead of the whole post title.
For example if you're writing a post about 45 best earbuds for jogging you'll ever need, your permalink should be yourdomainname.com/best-earbuds-for-jogging instead of yourdomainname.com/45-best-earbuds-for-jogging-you'll-ever-need.
Place your focus keyword in the URL or permalink of your posts to stand a chance at ranking higher for relevant search terms.
5. Create basic pages. 
The basic pages are your about page, your contact page, affiliate disclaimer (like the one on my blog right now), privacy policy page.
About page.
The about page is where you tell your visitors about yourself and what your blog is about. You can also let your target audience know where you're coming from, what makes you competent enough to do what you do, and in what ways you can help them.
Putting yourself in front of the camera here on your about page is one of the many things that bridle emotional gaps between you and your audience. Just be yourself on the about page. It makes your visitors closer to you, and amplifies trust.
Contact page.
Make it easy for people to contact you on your contact page. You might want to check my contact page to get a glimpse of what a contact page should look like. It should be easy, people already know about you on the "about" page, they should be able to contact you easily from your contact page too.
Affiliate disclaimer.
Affiliate marketing is one of the ways you'll make money from your blog, and we'll have our talk about this down in this discussion, but just for future purpose, create an affiliate page like the one I have right now on Potentstack, and let your users know you're an affiliate marketer and they'll be clicking on affiliate links to purchase whatever product you recommend.
Even if you've never signed up to become an affiliate for any product, having this page setup from the start is a good foundation.
Plus, it makes rigging your blog with affiliate links easy because you won't have to create another affiliate disclaimer page.
Privacy policy.
A privacy policy page is perhaps one of the most important pages you must have on your blog. It's basically about how you'll treat your visitors' information.
To make this simple, you don't have to write up your own privacy policy page yourself. There are tools to generate great pages, and I recommend you use Termsfeed to get the job done quickly without spending a dollar.
6. Choose a theme. 
Okay, so it's time to choose a theme.
At the start, you don't want to spend a lot of money because you're just starting a fresh blog. You want to start spending when your blog generates anything at all.
Right?
So, you want to use a free theme like this one on my blog right now. It's Astra, it gives you a lot of flexibility and puts on a professional look unlike 99% of the other free themes.
7. Connect to search console & analytics.
Search console and Google analytics are two great tools Google uses to track the progress of your blog, and as a webmaster or a blogger, you can't run your blogging business without these tools in your corner.
They're free and you just need to connect them from within your site using Google's Site Kit plugin.
It's also a free plugin you must install to get started with your blogging journey and to connect your Google console and analytics web tools. Head straight to your blog, install the Site Kit by Google plugin, and connect everything as instructed in the plugin.
8. Get a list of longtail keyword ideas. 
Everything's all set and you have a fresh clean blog ready to start ranking, getting traffic, and generating some bucks.
But not so fast. What's next is to create great content that'll attract traffic. This is the hard part for many bloggers. It's hard because there are already giants writing about the most popular and trending topics in your niche.
Your new blog doesn't stand a chance here. However, this doesn't mean you don't have a chance at all at ranking for specific keywords that can generate money for you.
You still can.
And the one way to do just that is to create ultra high quality contents on long tail keywords that are 5 or more words long.
If you're in the food niche, well wouldn't want to write about things like Creamy pasta recipes. It'll take you about 3 – 5 years of hard work to even rank this term on the first page.
But for a long tail keyword, you can get different variations of this same three-word key phrase.
This feature on Google search that elaborates keywords and automatically suggests search sentences or phrases is called Google Suggest.
It makes the process of getting long tail keywords easy. You can keep playing around with the key phrases to get more variations of long tail keywords or more ideas.
You see?
Now it's easy to rank for any of these terms with a little effort and great content. It may take a while to create great content, but it's definitely worth it.
Content that falls under the word "great" for me personally is content having more than two photos and more words (2,500+ or 1,000+ for regular posts like I do on Potentstack).
So, have a long list of your first 100 long tail keyword ideas and get on to create content.
9. Write your first 10 (or 15) blog posts. 
Now that you know how to sift long tail keywords that you can rank for, it's time to start writing. If you have a lot of money to spend on freelancers, it makes the work easier. With as little as $40, you can get 1,000+ word content cooked up by freelance writers on Fiverr.
You just need to register for free on Fiverr, and search for these good writers willing to throw you pieces of optimized great content that ranks.
It's your call to either hire freelancers, or do the work yourself at the start. The reason I chose 10 to 15 basic blog posts on your blog is because you'll need content on your blog not just to rank in the beginning, but to get the next steps right.
10. Write guest posts on bigger blogs.  
You have content on your blog already, and you need to rank. But ranking doesn't just happen, you make it happen by yourself.
How?
By building authority or ranking power for your blog. The reason Google has 10 results on the first page and every other page is because every result is more relevant and more trustworthy than the next leaping down the search page results.
While there are a lot of factors contributing to how well your blog will rank for any term, the single most important factor is a number of good links from stronger blogs to yours. These links are called backlinks.
This isn't an SEO lecture so I'll tell you what really works and what you need. The number of quality or good backlinks from other blogs to yours can greatly impact your search rankings. That so, you want to make sure you're getting good backlinks from bigger and more trusted blogs to yours.
One way to do this?
It's simply by writing on these big blogs and having them throw you a link in your bio. Don't waste your time spamming blog forums with the hope of building backlinks. While your efforts could pay off, you'd have to wait ages to see significant results unlike guest blogging on the go.
You need to reach out to these bigger blogs, and write for them to up your game and rank well for more terms. Other than building backlinks, you can also receive an influx of direct traffic from these blogs you'll write for.
Again, as a side effect of your quality content on bigger blogs, readers who own similar blogs in your niche could visit your blog from these big blogs and link to your blog contents in their article. This is perhaps the most important step in the post-blog-set-up calendar.
11. Monetize your blog.
After writing a couple of guest posts, you should see a spike in traffic and ranking trends for more terms on your Google console dashboard. More traffic means it's time to monetize your blog and start earning some bucks.
There are a couple of ways to monetize your blog, but the most profitable ways are through affiliate marketing and ad networks. Affiliate marketing is pretty simple, and with a couple hundred visitors you can generate passive income from your blog. It's all about putting links in your posts, and when visitors click through those links to purchase anything, you get paid a commission.
So, if you want to make money from affiliate marketing, you should write more about "top list" and "best" products. This way, you'll have more room to recommend products while chipping in your affiliate links with a call-to-action button for visitors to buy.
That's the whole wrap about affiliate marketing. And it's no more than providing valuable content that ranks, inserting affiliate links for visitors to purchase products, and getting commissions. You can also monetize your blog using Adsense, or by joining an ad network (which will require your blog to have heavy traffic).
12. Rinse and repeat steps 8 – 12.
Rinse and repeat the process from where you get to embark on smart keyword research, write content that ranks, write guest posts on mega blogs in your niche, and try out different monetization methods to see which works best.
Consistency is all you really need to build a blog that makes a lot of money in the space of 317 days (or 10.5 months).
Get a list of fresh long tail keywords, create great content around them, promote your content on social media (just focus on one or two social media to share your posts), write guest posts occasionally to build your blog's ranking capacity, try out different monetization methods to earn more money.
How to Start a Blog that Makes $1,000/Month in 317 Days. 
We've come to the conclusion of this guide, and I'm sure you've gotten everything you need to build a blog from scratch to finish that earns more than $1k a month.
While these steps are great and easy, the most important part of blogging is getting to rank for terms so that you can monetize your blog with whatever method you desire.
The easiest way to do this is to write a ton of guest posts on bigger blogs to build blog traffic, create great content that ranks well, and monetize your blog. If you've not started blogging just yet, it's one of the best ways to build passive income online.
Start your blog today for just $2.18/month on Namecheap and capitalize on these steps to build a sustainable business online.
Closely related posts