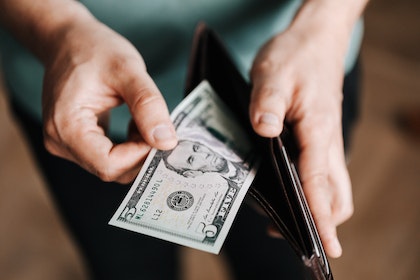 Are you looking for the best ways to triple $1,000 dollars?
If that's a year then you're not alone. 
Tripling $1k dollars isn't a lot of work and it can happen in a couple of months if you're patient. 
Recommended: 5 Best Jobs that Pay $2,000 a Day without College
Now this is possible in many ways, but right here and on this blog post, I'll highlight 10 of the very best and most realistic ways to triple $1,000 dollars. 
Before digging deep into these hacks, here are some of the frequently asked questions you've probably been asking about investing, flipping, and doubling money. 
How can I double my 1,000 dollars?
You can double your 1,000 dollars by investing it in the stock market, participating in real estate crowdfunding (which could take a while), starting and scaling an online business, scaling affiliate marketing with $1k to reach thousands of potential customers/buyers.
You can also flip products online to double $1k dollars or start an offline business that's quite scalable. 
How can I make money fast with 1,000 dollars?
The term "FAST" is relative. 
But if you want to make money pretty quickly, then you can learn to trade the options and futures markets as a day trader. 
This is the absolute best way to make money fast with $1k. 
But then there are other options like reselling used clothes on Depop, flipping furniture, searching for freelance gigs with a signup fee on Flexjobs, getting into dropshipping and Amazon FBA. 
Nearly all of this will take some time. 
To make life-changing money with $1k, you want to steadily build a business without pressure. 
This business could be virtual or physical depending on what your personality twitch is. 
If you're the indoor type like me, then you can build online businesses with time. 
But if you love outdoor activities, you can focus on building offline businesses capable of generating thousands, if not millions, in revenue after a while.
What is the best way to invest $1,000?
The absolute best way to invest $1,000 dollars is to start a business, a real business online or offline. 
The stock market isn't failing though and it's thriving; a good place to dump your cash. 
And even if you get the hang of things with trading the financial markets, winning is still a thing of uncertainty. 
So the best way to invest $1k or any money at all… drumroll… is to start a sustainable and scalable business online that you can build in the background of your life (or an offline business).
How can I flip money fast?
If you want to flip money fast, then flip stuff online. 
For example, look for products that sell very cheap on Alibaba and resell them on Amazon or eBay. 
You can also sell your used items or buy used items and resell them on platforms like Bonanza and OfferUp. 
How do you multiply money?
And by this you mean to double money. 
To flip money or double it, you can make it happen fast or invest time in doing it the absolute right way without having to risk losing it. 
How much money do I need to invest to make $1,000 a month? 
Basically, you don't need to invest anything to make $1,000 a month. 
You can generate $1k a month from freelancing, flipping items online, and becoming an affiliate marketer. 
Affiliate marketing is such a great business model that you make money based on how many sales you drive through your affiliate link. 
And it's totally free to become an affiliate marketer. 
Another way to make $1k dollars a month is to start a blog, and all you need here is a $100 (or less) investment upfront in securing a domain name and a hosting account with Namecheap. 
If you want to get really practical, then you can trade the options market to see how your cash grows in real-time. 
Another but yet free way to make $1k a month without investing a dime is to take up freelance gigs either as a content writer, a software developer, graphics designer or whatever. 
How to Triple $1,000 Dollars in 10 Best Ways. 
1. Start a blog. 
Making money with blogging is a no-brainer. 
You start a blog, give it time, create content, and wait it out while you build links to make sure your blog ranks and battles on the first page of Google. 
With the traffic coming in, it's easy monetization using ads and inserting affiliate links to your contents. 
Now in theory, it's easy to break down how blogging works. 
If you're not passionate about it and desperate to make it work, it won't. 
This is because things aren't the same as they were a few years back. 
The competition is intense and if you're not strong-willed, you'll fail. 
The twist:
Without trying to inject fear into your guts, that's the reality of things right now. 
But then, you can invest $1,000 dollars and triple it with a blog through traffic arbitrage. 
This means starting a brand new blog, buying traffic from traffic from different sources and monetizing that traffic through ad networks like AdSense and Ezoic to triple your investment. 
To get a complete grasp of how to start a blog to make money or triple $1k dollars with a blog (which might not happen in the first few months of blogging without traffic arbitrage), then take the next necessary step to read the complete blogging guide.  
2. Resell clothings. 
To triple $1,000 dollars, you can simply buy clothings from the flea markets, thrift stores and resell them online on platforms like Depop, OfferUp, and Bonanza. 
So you can do this on a large scale with $1k (or less) and even promote your products on social media to drive more sales and increase your earnings. 
If you take a careful time to learn how this works, you might be able to quadruple $1,000 dollars with time. 
The best practice is usually to learn how things work before eventually hopping into them full-time. 
3. Invest in crypto futures. 
Investing in crypto (or stock) however is one of the realest ways to triple $1k dollars. 
Particularly, investments in the futures market tend to have the highest ROI if things go north. 
It's basically an amplified version of the linear buy/sell crypto market as you know it. 
Meanwhile, you don't want to throw all of your money away in the futures market. 
So, learn to trade futures the right way before delving in. 
4. Sell printables. 
By selling printables, you can make threefold your one thousand dollars in the space of one or two months depending on how you go about it. 
You also have leverage if you're creative with making printables people will pay for. 
One of the most common places to sell printables is Etsy. 
It's totally free to create an Etsy account, and you can also promote your Etsy account and listings to reach more people. 
5. Trade options. 
Options trading is one of the quickest ways to triple $1,000 dollars. 
It's so quick that you can do this within 2 hours if you're great at trading the options market. 
However, if you're not a GOAT (greatest of all time) at trading, then things could go south with your investment. 
Best practice? 
Learn to trade the options market like a pro before investing a dime. 
Most brokers have an interface for demo trading before you're ready to invest real money.
6. Amazon FBA. 
Amazon is a global brand now. 
So right now, the billion dollar company runs a program for retailers and businesspeople to benefit from. 
With Amazon FBA or Fulfillment By Amazon, you can make money by buying products in bulk from somewhere else at a cheaper rate and then move the products to Amazon. 
You have no business with customer service or other things. 
However you pay a flat fee for every transaction on your account. 
7. Flip domain names. 
Flipping domain names is one of the realistic ways to triple $1,000 dollars. 
All you do is buy and resell domain names for profit.
So basically, you want to do this several times to make more money and invest into it more. 
The more valuable websites you buy, the more profitable prices you'll auction them. 
Get familiar with the process involved in flipping domains for profit before going in full. 
8. Start dropshipping. 
Dropshipping is a great business with a great model, and so you can triple $1k dollars with it. 
Despite being a profitable online business, not everybody is making a ton of money off it. 
So you want to learn all you can about dropshipping, particularly about dealing with returns and refunds before diving in sleeveless. 
9. Create a product. 
Still thinking about how to triple $1,000 dollars? 
Then you can simply invest it in creating a product of your own. 
It doesn't have to be perfect, but the MVP should do just yet to make you enough money. 
There are several kinds of digital products you can create nowadays, well, apart from courses which I'll discuss right… here below this text.
Recommended: How to Make $10,000 Dollars in a Week: 13 Smart Methods
10. Sell your course online.  
You can create a course around something you're pro on and sell it online on Udemy, Coursera, or Thinkific. 
It's simple, but your course will need to be of topnotch quality to pass muster with the review process of these online course libraries. 
Investing $1k in any way to build your course, you'll definitely make much more than that in a couple of weeks if your course happens to win a bestseller tag, and it's worth several hundred (or multiple thousand) dollars. 
How to Triple $1,000 Dollars in 10 Best Ways – Final Words.  
Now these are some of the ways to make three times the money you invest. 
If you want to double or triple $1,000 dollars, you can create a course of your own and sell it online.
Creating a product, an evergreen product, is also one of the ways to double, triple, or even generate a hundredfold your initial investment. 
Other ways to triple $1k dollars include selling printables, reselling clothings on Depop or OfferUp, starting a blog, flipping domain names, and trying out Amazon FBA. 
You can also venture into dropshipping, trade the options market and invest in cryptocurrency to triple $1,000 dollars. 
In the real world or offline, there are other things you could do to triple or quadruple $1k in the legal sense.