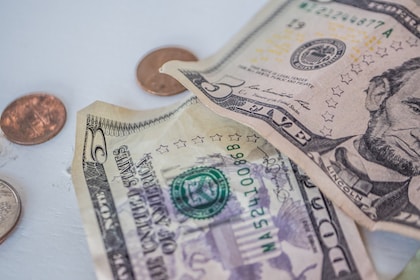 Trust me, you can turn $5k into $100k. 
But, not in an hour and not even in a month. 
It takes time for this to happen. 
And I'll be honest with you, you can make this work if you're serious about it. 
Recommended: How to Make $7,500 a Month in 9 Realistic Ways
There's no money doubling machine anywhere unless you decide to create one yourself. 
Hence, if you want to learn how to turn $5k into $100k, this article is yours. 
It's a realistic goal, and the real way to make this work is what you get to learn in this article. 
Let's ride. 
How to Turn $5k into $100k in 10 Clever Ways. 
1. Trade binary options. 
Turning $5k to $100k is very possible with binary options. 
It might not just happen overnight, but you can definitely turn $5,000 into $100,000 dollars trading the binary options market. 
To tell the truth, it's not fun to lose. But you could. And you could win too. 
It's all about your expertise, experience, how much you've learned to minimize your risks and how much you've learned to win more versus losing more money. 
Binary options as an online market is fairly simple to start trading. 
And a ton of brokers out there will let you have a demo account to start trading with. 
With this demo account, you can trade, test out strategies, learn a lot before eventually migrating to a real trading account. 
2. Trade crypto futures. 
Crypto futures trading is an online market and you can win big with small margins (or capital). 
So, if you've got $5,000 dollars and you want to make it or grow it to $100,000 dollars, there are a couple of traders in the real world who have done this over and over again. 
The reality is, you'll need to learn a lot and be patient to make this happen. 
Much more than learning to trade the crypto futures, there's a library of risk management techniques on the internet because you'll encounter some heartbreaking losses if you take risk management for granted. 
Additionally, you can choose to open positions with $5,000 dollars or 10% of your trading account. 
If you've got $5k in wholesome, then opening positions with $500 dollars makes more sense. 
You'd be able to withstand the storms that may come with price movements. 
3. Invest in real estate. 
Yet another way to turn $5k into $100k is to invest in real estate. 
It's fairly easy and you don't have to invest in any REIT or RELPs or some other agency spitting 2% of your investment every 2 or 3 months. 
I'd take forever to recoup your capital, talk less of making $100k. 
So here's the big question:
How can you invest in real estate with $5,000 dollars to get $100k bucks? 
Simple. 
You invest in yourself as a real estate agent who is into buying/selling or real properties and finding the best tenancy apartments for clients. 
If you're able to make this happen, you'd be the middleman in every transaction and you can slowly build up your portfolio from just a random guy with $5k in his bank, to some real-time big-time real estate agent. 
Of course you'd be able to register your real estate firm (nominally) with the agencies in charge, the IRS and co. 
Get your licenses & permits, and get on with promoting your services. 
It makes more sense to appear as a company, a middleman company rather than just an individual entity.
4. Flip websites. 
Website flipping is also one guaranteed way to turn $5k into $100k. 
But this could take up to 24 months. 
If you're buying a website that's worth about $4,000 dollars, you'd have to work on it until it's worth at least 2 times its initial cost. 
So, if it's worth $4,000 bucks, it means it was generating a monthly revenue of $4,000/42. 
That's $95 dollars. In 6 months, it's easy to take a website from $95 to $500+. 
You'd just need to do the manual work yourself if you don't have the capital to outsource content production and link building. 
In the next 6 months, if you're able to raise the revenue to $500/month, then you can sell it at $21,000+ dollars. 
Then after you can buy a bigger website, work on it aggressively until its revenue is 2× what it was, and resell it. 
Doing this over and over again starting from smaller websites and eventually buying bigger websites to resell or flip for profit can definitely get you to $100k+ in revenue. 
You can grow slowly but to the point where you're buying and selling websites worth hundreds of thousands. 
5. Flip domain names. 
Just like flipping websites, domain names are a much easier stuff to work on. 
You don't have to create content, but you can definitely make a domain name worth more by increasing the value. 
Performing some SEO on the domain name can boost the value over time. 
However, you can resell domain names with some authority for a little more than you acquired it. 
It works, but the odds of reaching $100k after a few months are low; unless you're dealing with domain names worth a couple ten thousand. 
With $5k, you can definitely make gains and grow your game. 
6. Do ecommerce.
While ecommerce is definitely one of the ways on how to turn $5k into $100k, it's probably the only hybrid option here where you'll need to set up an online store, but you'll also need to have a physical inventory. 
It calls for thorough thinking because you need leverage to thrive. 
You don't just start out with ecommerce because it's lucrative for an idea to make money. 
There's gotta be an advantage that you have over the market. 
So, starting fresh, you need to think of what to sell, how to ship your products, and how to get a ton of visitors (or patrons). 
If you can provide clear-cut answers to these thoughts, then you can take the next step to start your store online. 
However, I'd suggest reading a ton about launching an ecommerce business from scratch before making any significant move. 
7. Trade Forex. 
Obviously, just by trading Forex from your bedroom with a cappuccino ☕, you can turn $5,000 dollars into $100,000 dollars. 
Not magically. But by strategically trading the markets. 
Forex is no joke. It has made a lot of people. 
And has broken even more. So, you'll be trading. 
And this isn't something everybody else knows how to do. 
You've gotta understand the Forex market. 
Get acquainted with the terminologies, the risk management techniques, the concepts of analysis, and also understand the timeframes (and what times are best for approaching the markets). 
There's a lot you'd have to learn. 
Time's a factor too. 
Once you're beginning to understand Forex trading and get good at it, you'd be able to grow smaller accounts of $100 or $500 into five or six figure accounts. 
8. Start & promote an online clothing business. 
If you're a fashionista, you can start an online boutique, promote your online boutique and get sales. 
You can set up an online clothing store with less than $1,000 dollars, and focus on promoting your store to reach more eyeballs. 
Basically, you'll be lifting clothing images from other stores and adding up your own price (or profit) to every product. 
People will pay upfront and you get to purchase the item with their money. 
Alternatively, you can venture into dropshipping to alienate the stress of purchasing any item yourself. 
Dropshipping is cool, and it's the oversimplified version of ecommerce. 
And, you don't need anything near $5,000 dollars to promote your dropshipping store. 
There are already in-built tools for you to import product photos (regardless of the niche or products you're planning to sell), and you've got no business with shipping things over to clients when they make an order. 
That's left for the ecommerce store from whence you import your products. 
9. Build an online-based business. 
Online-based businesses exist on the internet. 
And two of my favorites are blogging & YouTube. 
You can start a blog or a YouTube channel and grow them into money-making machines online. 
Don't expect this to happen in a month or a year though. 
It'll take you some time to eventually know what's working. 
And more time to keep reiterating what works until you start seeing the kinds of results that you want to see. 
So, either a blog or a YouTube channel can generate $100k for you passively (in a month or a year). 
And you don't need $5k to start it. 
However, you can outsource content creation for a blog, a YouTube or for both of them with $5k. 
It'll shave off some waiting time and things will definitely happen faster with this move.
Recommended: 10 Smart Side Hustles to Make $300 a Day
10. Sell your own products. 
Selling your own products a year, you can generate up to $100k a year. 
But it may not happen soon. 
And this is because you'll need to learn how best to make it happen and this takes time. 
If you've got your personal product or your course, or something else (maybe a recipe), you can promote it online to meet an unbelievable deluge of people. 
If your product is worth well over $300 dollars, then you'd need to make 400 sales in a year to beat the $100k mark. 
If your marketing skill is on steroids, then you can get 400 sales in a month (also depending on the type & quality of the product you're putting out there). 
How to Turn $5k into $100k in 10 Clever Ways – Final Words. 
It's not magical.
It's possible. 
You can turn $5k into $100k, and some of the ways to make this happen include selling your own products (you spend some of the $5k to build and promote), building an online business, trading binary options (which is really high risk), trading futures on crypto, forex, trying out ecommerce, flipping websites, investing in real estate, and promoting your online clothing business. 
However, you're not going to get $100k the very next month. 
Or maybe even in the next 1 year of focusing on one or more of these strategies. 
With time, there's every possibility to scale, and earn more. 
Similar posts like this one
Working a 7am to 8pm school & home teaching job in 2021 to make $121 (£94.20) per month, I quit my job to focus on blogging after I earned by first $3 (£2.34) bucks a month from this blog passively without sweat. I never looked back since then. I've written for a couple of websites including Thestrive.co and I've come clean to unveil what works and what doesn't in the real world with regards to making life-changing money. Potentstack is my side hustle turned full-time project where I spill every realistic hack to make money in the real world (online and offline).
Want to learn how I make money blogging? Click here.