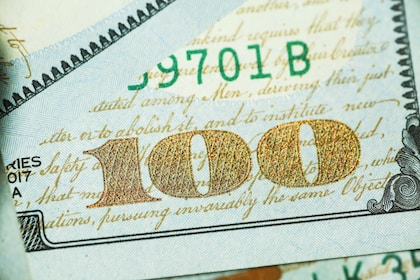 If you need $50 dollars by tomorrow, then this article is for you. 
It's not a lot of money, and there are dozens of ways to get it. 
However, I'll be highlighting some of the most realistic ways to make this happen. 
Maybe you'd get $50 dollars, less than this or even more if you're able to pull off some of the methods on this page. 
Trust me. 
Recommended: How to Make $500 in a Weekend: 10 Realistic Ways to Do this
They're just random stuff everybody else could do. 
And you might need to have some form of leverage to make it work really well. 
So, without further ado, here are 10 smart ways to get $50 dollars by tomorrow. 
I Need $50 Dollars by Tomorrow: 10 Smart & Working Methods to Get it. 
1. Sell your clothes. 
Selling your own clothes right now is definitely one of the realest ways to get $50 dollars by tomorrow. 
If you're serious about making this amount of money by tomorrow, there are clothes right now sitting in your wardrobe that you should let go. 
They're either good clothes or worn out clothes that you can sell either online or at thrift stores for money. 
I assure you you're going to make money from this. 
Even if you don't get to make $50 bucks (which is very unlikely), you'll make money for your efforts. 
So, if you're ready to get $50 by tomorrow, then you can handpick some of your clothes you think would sell for about $50 bucks. 
You can iron them out or dry-clean them before listing them on websites like Depop, Poshmark, and eBay for sale. 
You can also pay a visit to the local thrift store down the street to sell them there. 
You're definitely going to get $50 or more from selling your clothes online or offline. 
You could earn less, and it depends on the quality of the clothes you're selling off. 
2. Uber driving. 
Earning $50 dollars by tomorrow is really possible if you're ready to make this work. 
But first, you need to own a car of your own. 
If you don't own a car, then this option isn't for you. With your car, you can register with ride-sharing services like Lyft and Uber. 
After registering, you can start taking trips and moving people from one destination to another. 
You get paid as you drive around town with the aid of ride-sharing services. 
And you only earn after every successful trip. 
While making $500/day is possible, it's fair to say you can expect to earn anywhere from $30 to $500 a day depending on how rigorous you work; the longer you work, the bigger you earn. 
3. Food delivery gigs. 
Coupled with ride-sharing apps, you can work for services like Doordash, GrubHub and Instacart to deliver food items around town while you get paid. 
Per hour, you can earn around $18 dollars. 
It could be more or less with the different services. You'll also need to have a car for this to work. 
Or a scooter. 
There's also Postmates for you to work for just in case you need more services like this to earn more money. 
Whether you have a car, a bike, a bicycle or a scooter, you can run errands for these services and get paid. 
If you work for 4 hours a day, that's already $60 dollars assuming you earn $15/hour (which is low and conservative). 
4. Take freelance gigs. 
Freelancing is another way to go if you need $50 dollars by tomorrow. 
While I can't guarantee that you're going to get a freelance gig right here and now, it could happen and you could land your first gig before the next 24 hours. 
If you have a digital skill, it's better; you stand the chance to make over $50 dollars by tomorrow. 
Plus, it's totally free to become a freelancer. 
You just need to have enough ideas and knowledge about your field of expertise. 
In a bid to get $50 dollars by tomorrow, you can search the internet for gigs. 
Some of the places to look for gigs as a freelancer include Guru, Toptal, Indeed, Craigslist, Google Jobs, and Upwork. 
In the United States, it's commonplace for Freelancers to earn as much as $10,000 per month. 
So, $50 bucks isn't much. 
5. Mow lawns. 
If you need $50 dollars by tomorrow, you can mow lawns to get it.
There's nothing spectacular about this and you can start right now even if you don't have your own lawn mowing tools just yet. 
Mowing lawns is also a way to make fast money. 
You're not going to get rich from doing this either one-time or occasionally, but you can definitely make around $50 before tomorrow. 
There's no guarantee here. And that's because I can't tell where you live right now. 
Depending on your city, you can get lots of lawn mowing gigs. 
And you might get none too. On average, lawn mowers earn $50 dollars per hour and about $190 for a complete session. 
So, you may not need to mow all the lawns in the world before getting what you're looking for. 
6. Housecleaning. 
Cleaning houses is something to consider if you really need $50 bucks in the next 24 hours. 
With the help of websites like Craigslist and some other job boards, you can get house cleaning gigs that pay well over $50 dollars. 
While you're not a professional house cleaner, you can do this for the money. 
However, it doesn't take a lot to clean houses. 
Maybe you'll need to brush up on the professional side of things first by reading about house cleaning and learning a few things here and there about cleaning houses for money, but overall, it's nothing you can't do. 
7. Run random tasks. 
Still in your teens or your twenties? 
Then you can do this if you need $50 by tomorrow. 
It's all about finding clients who'd like you to help them do some hard jobs. 
You contact them, do the job, get paid. 
Some tasks will pay much more money than the others. And that's just fine. 
If you're ready right now, some of the websites to find random tasks that you can do for money include: 
Taskrabbit
Flexjobs 
Mturk 
Postmates
Doordash
You'll be getting paid either per hour for some of the services if you're working directly with the platform, or per task if you're working directly with the client. 
For example, you'll be working directly with Postmates and Doordash to deliver stuff to clients and the apps pay you directly. 
On Taskrabbit, Mturk, Flexjobs, the clients make the bid and you get to work with them one-on-one while the apps just connect you to them. 
8. Sell photos. 
You landed on this page because you searched for the phrase "I need $50 dollars by tomorrow". 
If that's correct by any means, then you're willing to do anything to get it. 
Selling photos, you'd be able to make money up to $50 dollars in the next couple of hours or in the next 24 hours. 
But then, your photos would have to be exceptionally good. 
People must be willing to pay for the photos you've taken previously. 
They must be original and high quality.
The camera or phone you work with on this will go a long way to affect the overall outcome of your efforts in this line. 
If you already have some really nice photos, you can sell them on the following websites: 
Fotolia
iStockphoto
Shutterstock
Alamy 
500px 
SmugMugPro
Once you're getting familiar with the entire process from taking photos to selling them, you'd be able to tell the highest converting photos; the photos people buy the most. 
This means you'll be able to make more market-driven photos and sell them for even more money. 
9. Pet walking. 
Do you have a love for pets? 
If you do, then you're unlike me and you can make some money from pet sitting. 
Thousands of dog or pet owners don't really have all the time in the world to keep their pets busy. 
This is where you come in if you need $50 dollars by tomorrow. 
You simply apply as a pet walker. You walk pets and get up to $30/hour. You could earn a lot less or a lot more. 
It depends on what the pet owner is looking for and if they're willing to pay for your services. 
Again, you don't need to pay any dime for this to work and you also don't really need to love pets to do this. 
A love for pets could make everything a little bit more fun while you get the money you're in search of. 
Pet sitting is a way to make money. But not millions. Definitely not life-changing money.
Recommended: How to Get $400 Today: 9 Very Realistic Methods
10. Teach online. 
Thanks to the internet. 
There are several great opportunities to make money and to make a living. 
If you need $50 dollars by tomorrow, you can simply become an online tutor to make this money. 
You can teach online and get paid by signing up as a tutor on websites like VIPkid, Wyzant, Preply, and Tutor.com. 
Trust me, you'll get paid. 
Another place to look if you want to tutor online for $50 dollars is Indeed. 
The job board. 
You can browse through Indeed and other job boards to check out online tutoring remote jobs. 
Some of them could pay you $50/hour. 
Again, you're not going to make a lot of money from tutoring online. 
It's just a hustle to make some extra money. 
I Need $50 Dollars by Tomorrow: 10 Smart & Working Methods to Get it – Final Words. 
If you're still wondering how to get $50 dollars if you need it by tomorrow, the legit and realistic ways to get it include teaching or tutoring online, walking pets (whether you like them or not), selling photos online, selling your clothes on the internet on marketplaces like the Facebook marketplace, doing tasks like house cleaning, sitting pets, take random tasks on Taskrabbit, mowing lawns, freelancing your skills, delivering food items around town, and driving for Uber. 
There are more ideas to consider if you need $50 dollars by tomorrow, but these aforementioned ones will definitely get you what you want.