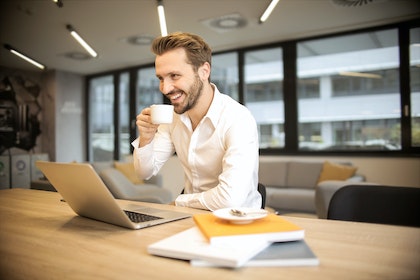 If you're wondering how to make money up to $2,000 a month online, then this blog post is just right for you. 
On the internet, you can do a lot; play games, stream Netflix, chat with friends, explore TikTok or Instagram. 
Recommended: How to Double Your Money in 30 Days: 8 Best Ways
You even get to stalk celebrities, neighbors, college colleagues and your crush online. 
Much more, you can also make money online. 
There's so much money on the internet to be made, and I know this post reads that you can make $2,000 a month online without hassle. 
The truth? 
You can earn tenfold $2k in a month (that's $20k if my math is still half as accurate). 
In fact, there's more money online now especially with the rise of Bitcoin, stocks and other financial markets. 
So, if you want to make $2k working online, there are lots of online jobs to explore.
Out of all the self-employed online jobs that pay well, I've selected the top 10 in no order of priority that can actually make you $2,000 a month without much hassle. 
Here they are. 
10 Best Jobs that Pay $2,000 a Month without Much Hassle.
1. Blogging. 
Blogging has been around for quite some time, and it's one of the most stable online businesses you can start up in the 2020s. 
Before starting a blog, you want to make sure you know the niche or field you want to blog about. 
And by choosing a niche, you're able to define your audience, know what kind of content they need, and serve them best. 
Blogging can make you a lot of money. 
Much more than $2,000 a month, but it doesn't happen overnight. 
It takes a while to build a blog unless you're willing to invest crazy into social media or search engine paid promotions at the very beginning (which isn't a sustainable move). 
So, invest time at the start and slowly build your blog into greatness. 
To get started with your blog today (if you don't have a blog yet), read my free blogging guide right here. 
You'll love it. 
The guide contains the steps to launch your blog, and grow it to make money. 
2. Airbnb. 
On Airbnb, strangers pay per night to use an apartment put on lease by owners. 
So if you're still wondering how to make $2,000 a month with hassle-free jobs, Airbnb is a great start. 
If you have an apartment or don't have an apartment, you can make money on Airbnb. 
But it's easier if you have your own apartments. 
If you're without an apartment of your own to lease out, then you can liaise with other apartment owners around you and pay them biweekly or monthly for leasing their vacant apartments out to strangers. 
You can earn upwards of $100 per night for an apartment. 
With multiple apartments, you could earn over $500 per night. 
Let's say you've got a really nice apartment going to $300 per night and you get 10 clients in a month to rent your apartment (because there's no guarantee you'll get people to rent your property every single night). 
$300 per night in 10 days will earn you $3,000 dollars. 
That's already much more than the $2,000 a month benchmark you're shooting for. 
Plus, if you own multiple apartments, you could make a living completely off Airbnb apartment leasing. 
3. Pet-sitting. 
Do you love pets? 
Then pet-sitting is a great side gig that's hassle-free and can make you $2,000 a month. 
All you need to do is checkout pet-sitting gigs around you on Fiverr, Upwork, or Flexjobs. 
You'll also find a list of pet-sitting gigs on Indeed and Craigslist. 
You can earn up to $45 per hour as a pet-sitter. 
3 hours leaves you with $135. 
Let's say you get gigs once in two days. 
Or four times a week. 
That's $675. 
And in a month, that's $2,700. 
4. Options trading. 
Quite a tricky one, but you can lose a lot of money as a newbie trader trading the options market. 
Ideally, you want to master the art of trading so it's easy to make money every time. 
There's no perfect strategy to make money off options trading, but it's sure possible to make $2,000 a month even if your trading capital isn't bogus. 
Trade with the most reliable options broker, and play by the rules and follow the policies to not get banned. 
5. Freelance writing. 
Writing for clients can make you up to $2,000 a month if you enjoy it. 
You can get high paying writing gigs as a freelance writer that pay up to $70/article or $0.07 per word. 
This is on the low end. 
If you know your onions as a freelance writer, you can get paid as high as $1 per word.
Okay, that's where the pros of the highest freelance writing order parade. 
You can earn up to $0.1 per word. 
This means earning $100 dollars for a 1,000-word article, and $200 dollars for a 2,000-word article. 
With 20 freelance clients a month, you'll be making $2,000 dollars (if you wrote 1,000 words of content for them all). 
To get started as a freelance writer, Just up on Upwork.com to get some of the highest paying writing gigs. 
To make more money writing, lookup writing gigs around you on Indeed.com. 
6. Web designing. 
Web designing is a great self-employed job if you're good at it.
With this skill, you can get paid up to $600 to design a simple website. 
Clients pay more actually. 
But having this gig once in a week amounts to an extra $2,400 a month. 
So if this is your gig, get started first as a freelancer. 
There's no signup fee. 
Totally free. 
Plus, you can easily get web design jobs that pay higher around you on Indeed.com. 
7. Ride-sharing. 
If you own a car and you enjoy driving, you can make $2,000 a month without hassle by working with ride-sharing company Uber.
With the help of their app, it's easy to pick up random passengers from around the city. 
It's a great job that also guarantees daily earnings. 
While $2k is something you can make almost the first month of running multiple trips, it's not one of the self-employed jobs that requires time and patience to build. 
8. Crypto trading. 
Trading the crypto market is emotionally taunting. 
But hassle-free. 
You don't stress, you just draw support and resistance lines across different timeframes (if that makes sense to you). 
With a proper understanding of how the market works, you'll be able to trade profitably. 
Plus, you don't need a lot of money to make $2,000 a month trading crypto. 
You can start with as little as $100 and grow it by consistently winning while observing risk management techniques (to minimize any chance at losses). 
9. Virtual assistance. 
Nowadays, virtual assistants are skilled in quite a lot of virtual tasks including social media management, content editing, replying emails, and performing customer services virtually. 
So if you want a hassle-free $2,000 a month job, consider becoming a virtual assistant. 
You can get paid as high as $3k/month or more depending on your skills and expertise. 
Plus, you're self-employed. 
So there's really no boss over you. 
You choose to work for whom you want to. 
And you do this from home.
Recommended: 7 Illegal Ways to Make Money at Walmart
10. Dropshipping. 
Dropshipping is a simple business model that parades ecommerce. 
It works in a way that allows you to add your own prices to products you import from an ecommerce store to your dropshipping store. 
Before venturing into dropshipping, you want to make sure you learn a ton about it. 
And how not to fail at it. 
It's an easy business model, but the competition doesn't make it easy to succeed in it. 
What makes dropshipping really interesting is that you can make a lot of money from an online store without having to spend on acquiring anything physical. 
Everything happens online and nothing really happens in the offline world. 
You launch the store online, get the products online, and promote your store online to get more buyers. 
10 Best Jobs that Pay $2,000 a Month without Much Hassle – Final Words. 
In the offline world, earning $2k a day is possible, and that's if you run a personal business. 
If you work full-time as an employee, you could earn $2,000 a day but that's when the check drops by month or weekend. 
There's hardly a white-collar or non-professional job out there paying $2k cash daily. 
Even if you earn $100k a month, you only get paid when the week's over or month's gone by. 
Plus, you won't get enough time to do the very things you love doing (unless you're in love and obsessed with your 9 -5). 
But working online can compress your work life and grant you freedom quickly. 
If you're a traveler, you can work online or start any of these self-employed jobs while traveling the world. 
The best part is that you don't spend a lot of money starting these online jobs. 
Some of them are totally free to start up. 
And while some of them will cost you a token to kickstart (like dropshipping and blogging), they have a really high ROI.
Similar posts like this one
Working a 7am to 8pm school & home teaching job in 2021 to make $121 (£94.20) per month, I quit my job to focus on blogging after I earned by first $3 (£2.34) bucks a month from this blog passively without sweat. I never looked back since then. I've written for a couple of websites including Thestrive.co and I've come clean to unveil what works and what doesn't in the real world with regards to making life-changing money. Potentstack is my side hustle turned full-time project where I spill every realistic hack to make money in the real world (online and offline).
Want to learn how I make money blogging? Click here.