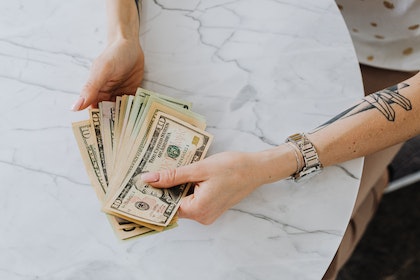 If you're for the best online jobs that pay $20,000 a month from home without having to leave your house or do anything menial in nature, then you're not alone. Working online gives you the freedom to do a lot of other things while you make money passively (depending on what work you're doing on the internet). 
Recommended: How to Make $400 Dollars a Month: 21 Proven Methods
The truth is, you can make a lot of money off the internet without being super smart or writing codes here and there for mega tech firms. 
How can I make money online? 
The realistic answer to this is that you can make money doing real jobs that pay a lot of money. There are a lot of things you can do online like taking surveys, but it's one of the many online jobs I'll never discuss on Potent Stack. 
It's not because you can make money from taking surveys online. It's simply because whatever you make from taking surveys will not be enough to make you rich in the longest run. 
By making cents per survey or even as much as $2 or $5 per survey, that's really nothing worth working hours online for. And how much $5 can you gather in a month from surveys. 
Plus, you're barely going to find any survey firm on the web paying as high as $5! That's super high for a survey website to pay. This is because you're barely adding value from the backend of things. 
You can make real money online by adding value frontend to real people and get in front of them to say "hey it's me doing the work here". That way, you can get paid or build income streams that generate money passively. 
Can I make $20,000 a month online?
With the 7 realistic online jobs that pay $20,000 a month and so much more, yes you can if you put in the work. 
Speaking of making money online, $20,000 is a lot of money. But right now, people are earning so much more than $20k, even up to $200k a month working online, traveling the world, and building more income streams from what they already have. 
So yes, you can make $20,000 a month working online. It's not something that happens overnight. You slowly build momentum. And just like me, you could earn $3.07 in the first month. 
How long does it take to make money online? 
If you're not trading the financial markets (more on this later), it takes time to make money online up to $20,000 a month. A lot of people making serious money online started seeing results after a couple of months. Mostly 6 months of intense work. 
Others report seeing a glimpse of hope after one year. I'm an example myself, I didn't blog for 11 months. But the 12th month, I blogged like hell and made $3.07 from Adsense. Well, I got accepted into Adsense the same month with just 11 articles on this blog. 
And since then, I've been working to earn more. This is the second month, and I'm not making any life-changing money yet. You can take surveys and run errands for Doordash to make money online fast. But you're not going to make the kind of money that builds wealth and gives you freedom. 
There are a lot of ways to make money online fast like trading options, running errands on Flexjobs, or Doordash, and pet-sitting for clients. But you can't do this all your life to keep up. 
You don't want to be pet-sitting for the next five years.  
How much a day is $20,000 a month? 
Earning $20,000 a month is approximately $670 a day in 30 days. Calculating with 26 working days in a month, that's $770. So if you can find a way to make $770 a day, everyday in the next 26 days, you've made $20k. 
How much is $20,000 a month in one year?
In a year, $20k a month leaves you with $240,000. 
Surprisingly, you can make $240k in a month to have $2.8 million in a year if you put in the work for a long time and keep implementing new strategies. 
Hey! 
I'm shooting for $10k a month. 
But the time comes when I'll be shooting for $100k and then $200k a month. Growth is intentional, and is in stages. With all that said, here are 7 realistic jobs on the internet that pay $20,000 a month and so much more (depending on what you're shooting at).
7 Best Jobs that Pay $20,000 a Month
Blogging
Blogging is one best way to build passive income online. You just need to create a blog, pick a niche for your blog, write articles and get traffic. It's not that simple, I must warn you. It takes time to build traffic to a blog. 
I'm still trying to build mine right now, but here's how it works in reality: 
You pick a niche. 
Decide what your blog name will be.
Get your blog online in 5 minutes with Namecheap. 
Create primary pages for your blog. 
Look for lots of rank-able keywords to write about. 
Create great content around the keywords. 
Build ranking power for your blog. 
Monetize your blog. 
Keep publishing good content. 
So, first of all you want to choose a niche that's trending or has a lot of people interested in it. 
Then you want to choose a blog name, and afterwards head to Namecheap to get your blog live. I cover the steps in totality in this simple guide. From choosing a domain name (or blog name), your niche, and setting up your blog to monetizing and writing content, you can read everything up in this blogging guide. 
The point is, you can make $20k a month blogging. Many bloggers hit over $100k, and a few rake in $100/month. It depends on how badly you want to grow your blog and make money. 
Building a blog is challenging, and it gives you the opportunity to improve on your skill, and develop yourself while you constantly communicate with your audience through posts, videos and more. 
To get started with blogging today, read up this guide. 
Web Designing 
Just designing websites, you can make a lot of money from freelance employers or firms around you. A realistic idea is to write to the popular firms in your city, give them a list of anomalies on their websites and how you can improve on them. 
Many of them will ask to see you and even make a deal for thousands of dollars. On the other hand, you can become a freelance web designer and still make a lot of money. Clients around the web, particularly on Upwork, are willing to pay up to $30 an hour. 
That's about $150 a day working 5 hours a month. 
Will that get you to $20k a month? 
Nope. Certainly not. 
The best way to make $20k or even $100k a month as a web designer is to think more like a business. This way, you want to start a web design agency, handle multiple projects for different clients, work with a team, grow your brand, and make tons of money. 
Graphics Designing 
You can make money from graphics designing as a freelancer, but it won't get you to $20k a month. 
How about taking the business approach? 
Building an online graphics designing firm and having to do a lot of work for multiple clients. You won't be working alone and it's a firm you'll be promoting, your firm, not just your name. 
By designing graphics for tens or hundreds of clients in a month, you can surpass the $20k/month mark with ease. You get more audience, quicker growth pace at a business, and you'll definitely spend more paying off your team and maintaining your company website. 
Writing
Do you know writing online can make you money? 
Yes it can. 
And a lot of it. 
Up to $20k/month. 
You can earn online as a writer by writing for websites that pay up to $1k for any quality content you deliver. Alternatively, you can work for multiple clients as a freelance writer, and earn from multiple writing gigs. 
The realistic writing career online that can really make you a lot of money is starting up a content agency to help clients around the world create content for whatever website or project they desire. Doing this, you'll need a company website, a couple writers to back your play, and you'll need to spend on social media ads just to get your company in front of a lot of clients. 
If you don't want to go down that road, you can write cold emails to different companies applying to be their in-house writer. A lot of companies are looking for great writers, but they don't make a lot of effort to find them online. 
You can leverage cold pitching to get high paying freelance clients willing to pay as high as $1 per word. That's $2k for every 2,000-word article. And if you're really great at writing, you can do 2k words more than 20 times a month. As cool as this sounds, getting a high-paying client even through cold pitching takes time. 
YouTube
With $0, you can make $20k a month. Between that $0 and $20k is a boatload of time, effort, and consistency. There's a lot between short words sometimes. Starting a YouTube channel is totally free. YouTube doesn't charge you. But to get views and start earning from the partner program or ad program on YouTube could take a while. 
To make things faster, you want to create a niche-based YouTube channel or a YouTube channel that's into viral stuff, consistently create great videos, and optimize your videos for search visibility on YouTube. When I say make things faster, I mean doing things the right way. 
There's no faster way unless you're willing to spend some bucks on promotion. It's risky and the growth will be unsustained. You want to organically grow your YouTube channel from 0 subscribers to 7k in one year and 30k the next year, like that. 
The best way to do so is to stay consistent with creating great video content, and stick to a niche (part of which is being viral on all things). You can create a rogue channel and just do crazy stuff on YouTube, explore forbidden places, and do stupid pranks. 
It'll pay off too. 
It's fun, and people crave it. 
Online Course Sales 
If you're good at something or you know something so much, you can make money online by creating courses and selling them on platforms like Udemy. 
It could take a while to create a course of your own, but once you start doing it, you get used to the procedures and it won't be much of a burden anymore. When creating a course to sell out there, you want to make sure that the value of the course is ten times its cost or price. 
So if you want to sell a course for $1k, you need to make sure the value in it is worth $10k. Don't create a course because you want to make money. Create because you want to add value and make a difference. That's how you create epic courses that sell for years. 
Recommended: How to Make $300 in an Hour: 9 Genuine Ways
Trading Financial Markets
Trading the financial markets is one of the quickest ways to make money online. But to really make a lot of money, you'll need to have a lot of money unless you want to invest for a long time. 
But if you want to make money daily from trading online, then you'll need to master the markets and have some good money to trade with. It's risky to put your life savings into the financial markets, because you could lose everything. Winning and losing are a norm in the virtual financial markets. 
So, whether it's crypto, forex, options, or stocks you want to trade, you can really make money daily by knowing to trade like a Pro, avoiding overtrading, and sticking to a strategy. 
7 Best Jobs that Pay $20,000 a Month – Summary 
While you can make $20k a month trading the financial markets, blogging, selling courses online, writing for different clients, designing websites and graphics, it takes time. 
Don't expect to hit $20k in your first month. 
True, you may read success stories of people who started making hellish money in the first month, but that's just like 1% of the people making money online. The conventional approach to success is slow and steady, time-taking, and intentional. 
So, you need to be patient with whatever it is you're doing to make money online, and you need to make sure it can pay like hell if it's not on this list.