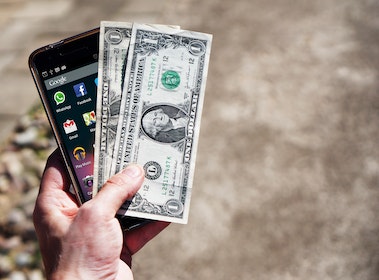 Maybe you already have a full-time job that's a day or night job, but if you want to know about the best side hustles to make $10,000 a month, then this is your article. 
Making $10k a month off a side hustle can give you chills, and you'd be able to quit your day job if you're making more from the side hustle than you're earning from your day job. 
It's a really amazing feeling because you can do a lot with $10k+ every month. 
Recommended: 12 Best Jobs that Pay $6,000 a Month
If it's passive income, it's even cooler. 
However, making a lot of money from a side hustle means you'll need to think smart, be consistent and commit some real effort towards growing it. 
Moving forward, here are 11 Best side hustles to make $10,000 a month in the real world. 
11 Best Side Hustles to Make $10,000 a Month.
1. Blogging. 
Blogging is one of the side hustles to make $10,000 a month. 
You can start a blog and grow it on the side until you're making a lot of money from it. 
Today, there are lots and lots of bloggers who don't just blog, but they make it their full-time job. 
This is because blogging retains the capacity to generate millions of dollars for you if done right. 
I'm not saying you're going to make $10k from your blog the very month you launch it open. 
But you could if you're a blogging Einstein with years of experience in the blogosphere. 
Start by picking a niche or a field of interest to blog about. 
Then you pick a domain name you'd like and then get your blog live. 
Afterwards is when you start blogging. 
It could take some time to start seeing results, but you will if you're consistent. 
If you're ready to start a blog and make money blogging right now, check out this ultimate blogging guide. 
2. SEO consultancy. 
SEO is short for search engine optimization. 
Now, with the avalanche of businesses going online, there are techniques to thrive in the online world that these businesses will need to integrate. 
The reality is, a lot of businesses are going online without having the know-how to succeed in the online world. 
That's where you come in. 
These businesses are willing to pay up to $100k and even more every month to you just to get your SEO advice and consultation. 
On your part, you'll need to thoroughly learn SEO inside and out. 
Thoroughly to be well-known enough for companies to entrust their entire online activity and hopes to succeed in the digital space into your hands. 
3. Product sales. 
If you have a product, selling it online is one of the side hustles to make $10k a month for real. 
You just need to know how to promote your product and reach the right people. 
Another thing is to have compelling copies to convert every eyeball that hovers your product from viewer to buyer/customer. 
Your chain or promotion in the online world also matters. 
And there's every need to focus on a few promotion channels versus trying to be everywhere online. 
If your product appeals to a particular kind of audience, then find out where your audience spends the most of their time and promote your product with compelling copies there. 
4. Social media influencer. 
Are you famous on social media? 
Then you can make up to $10k promoting products and campaigns for people and companies too. 
If you're not famous on social media, then this isn't your thing. 
If you choose the right thing to be social media popular over, then you could earn $30k+ in a month depending on how many followers you have on your page. 
Some of the top earners in the social media space are influencers who branch into sectors like tech, health & wellness, entertainment, and finance. 
So, if you want to get famous or you're already famous, make sure people can tag your fame to an industry. 
It's more profitable because it'll be easier to attract the brands in that sector or industry. 
5. YouTube. 
You can launch a YouTube channel on the side and watch it grow. 
Maybe you want to start it as a side hustle to make $10k a month, but when you start making your first few thousand dollars, you can go all in to make sure that you're able to push your earnings by pushing more productive stuff out there. 
What rules YouTube is quality, frequency, and captivation rate (or cap rate). 
My Take:
I coined an acronym for this, and it's CECOQ. 
This means (Consistency, Engagement, Captivation, Optimisation, Quality). 
You'll see crazy results if you're able to apply all of these elements to the content you create in any niche on YouTube. 
While it's totally free to start up a YouTube video channel, you can make life-changing money off your channel in a couple of months to years depending on the competition and how well you can best explore the CECOQ technique. 
By the time you start getting your first 10k subscribers, making money gets easier. 
The work is to get the subscriber numbers to balloon exponentially.
6. Affiliate marketing. 
Affiliate marketing is a side hustle that can change your life. 
While you can start this as a side hustle to make $10k a month, affiliate marketing can generate much more money than $10k a month for you. 
It's one of the best ways to build passive income on the internet, and some of the highest earning affiliate marketers generate as much as $150k a month. 
You start by applying to become an affiliate marketer, which is free and easy to become once you have a website that product manufacturers will like their products to be on. 
Once you get accepted into affiliate programs, you can focus on promoting these affiliate products the right way to reach the right audience. 
The more people buy these products, you make money in the form of commissions. 
7. Podcasting.
Podcasting is one way to speak to the world and get yourself heard while making money. 
It's expensive if you really want to make a lot of money off it because you'll need a podcasting studio and the equipment to filter your sound. 
But if you're starting small, then you can create podcasts and just put them online without having a studio or venturing into video podcasting (which would cost more). 
But the point is, you can definitely make up to $10k a month with podcasting as a side hustle. 
It's your call to learn about podcasting and the best ways to monetize a podcast and the channel. 
8. Course sales. 
Creating and selling a course of your own is one of the ways to both generate passive income and distribute knowledge or value to the world. 
Course sales if done well can be one of the best side hustles to make $10,000 a month, and even more money depending on your status quo and the price of your course. 
If you're already a name or an authority in your niche or field, then it'll be easy to make tens of thousands of dollars from any course you launch. 
In everything, put in your best in the course you're looking to create. 
It takes 10 weeks or 5 months to create a monster course that'll be worth over $300, then put in the time. 
Very few things are as satisfying and gratifying as generating mind-blowing figures from a course you created and getting positive feedback. 
9. Event planning. 
Can you call the shots in an event, do you have a contact list of trusted professionals that can handle every section of an event – from the music to the cuisine – at a moderate rate? 
Then you become an event planner on the low for the start. 
You're not going to make $10k the moment you decide to do this as a side hustle. 
But with time and as people get to know about your services, making tens of thousands a month would be easily attainable. 
Event planning is fun if you're outgoing. 
This is because you get to meet a lot of people along the line. 
10. Drop-shipping. 
Drop-shipping is one way to generate passive income online. 
It's also one of the best side hustles to make $10,000 dollars a month. 
Taking a drop-shipping store from nowhere to $10k a month isn't an easy feat. 
It's not something that every drop-shipper can do. 
Even some of the best drop-shippers don't get to this feat. 
You can if you spend more time understanding how it works before plunging down the hustle. 
Drop-shipping is more like e-commerce, but you don't need a warehouse and you don't buy any product of your own. 
You also don't ship anything. 
Recommended: 17 Best Side Hustles to Make $100 a Day
11. Public speaking. 
Are you a vast speaker? 
If you are, then you can take this as a side hustle to make $10k a month as a public speaker. 
With the help of the internet, you can promote your services as a public speaker and start by making your own videos to answer controversial questions online. 
From there and if you're consistent enough, you're going to get a foothold fast enough to get public speaking offers from your local firms/organizations. 
If you're familiar with making sense out of everything, then you'll instantly become an online sensation. 
Through the online world, the offline world will get to know about you. 
The thing is, public speaking isn't bluffing. 
I mean, you're permitted to bluff 15% of the time, but your authenticity amplifies and solidifies with a lower bluff rate. 
In essence, you'll need to study at all times; make it a lifestyle. 
11 Best Side Hustles to Make $10,000 a Month – Final Words. 
Rounding things off, if you're looking for the best side hustles to make $10k a month, some of them include public speaking, drop-shipping, event planning, YouTube channel monetization, product sales, SEO consultancy, blogging, and social media influencer marketing. 
There are many other side hustles that you can do to make $10,000 dollars a month, but these are some of the cheapest and easiest, and the most realistic too. 
In fact, you could make much more than $10k a month from these side hustles and you can make them your full-time hustle if you're looking to make more money off them quickly. 
One thing however is to focus on one at a time (unless you have a team of hustlers to capitalize on multiple side hustles simultaneously).