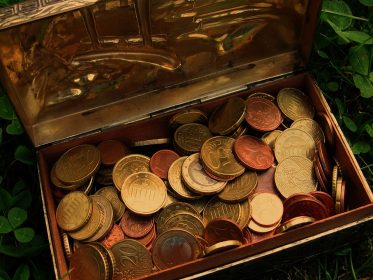 So, can you live off $1,800 a month? 
That's one hell of a question and the answer is a big yes. 
But how? 
That's what this article seeks to explain. 
Recommended: How to Make $20,000 Fast in 12 Realistic Ways
Right on this blog, I've created a couple of guides about living off or surviving off pretty much any amount of money you've got. 
You can find those resources right here. 
Can You Live Off $1,800 a Month? 8 Realistic & Natural Hacks. 
You'll get to know exactly what to do if you have $1,800 dollars right now and you're looking to live off it for the next 30 days or a couple of weeks. 
No BS, what you get here is what works. 
And if you're daring enough to try these methods out, you'll see positive results.
How to Live Off $1,800 a Month: 8 Sure Hacks. 
1. Save a portion of it first. 
If you want to live off $1,800 a month, you can save a portion of the cash first to be on the safer side of things. 
So, for example you can save up $500 bucks to live off $1,300 dollars in a month. 
This way, you always have $500 dollars to fall back to when you've spent every bit of the $1,300 dollars. 
You can save up to 50% of the money you're looking to live off on and discipline yourself to stay thrifty and really survive off what's left. 
It's going to be one very challenging thing to do especially if you already have a budget for the cash. 
Depending on your appetite to splurge or spend on things, you can save up whatever percentage of the money and live off whatever you have left or make use of the next few hacks to live off what's left of the cash. 
2. Have a daily spending limit. 
A daily spending limit means you're not spending more than a certain amount of money in a day. 
So, if you want to live off $1,800 bucks, you can take out 20% of the funds and build a spending limit from what's left. 
20% is $360 bucks. You'd have $1,440 dollars left. 
A spending limit for $1,440 dollars in a day would be $48 dollars. 
So, everything you've got to spend for the whole day would be $48 dollars. 
You can do this with the entire $1,800 bucks or keep some money aside (like the 20% chunk) before developing your daily spending limit. 
You can also take this to be a benchmark for your daily spendings. 
If you can spend below $48/day, that's even better. 
3. Buy less. 
You don't need to buy everything that crosses your sight. 
If you want to live off $1,800 dollars in a month, then you've got to buy less.
Buying less means buying only the things you need and nothing more. 
You're not permitted to spend on your cravings or to spend on things that are only going to be more of a liability to you. 
You don't need more shoes or more clothes at this time unless the ones you have are totally bad beyond use. 
Plus, buying anything that crosses your mind or things you don't really have much need for is one of the fastest ways to go broke. 
Tame your buying/spending appetite. 
4. Cook; skip the restaurant.
So, you don't have to visit the restaurant every time because whenever you do, you spend some money. 
Or more money. 
Visiting the restaurant is a good way to burn cash fast. 
You want to live off $1,800 a month, and this means you need to do everything possible to make sure you've got cash. 
If you've got great culinary skills, then you can cook whenever you want to and it's going to save you some money. 
Food prepared at home is the best kind of food to eat. Health-wise, it's not advisable to always eat out at restaurants. 
Plus, you don't have to eat the best meal, but eat healthy and you'll be just fine. 
5. Ask friends for tips. 
You're not going to live off $1,800 bucks by asking friends for tips. 
But then, you'll end up having more money to live off when you do this. 
You just need to ask and this isn't in any way a crime. 
Asking from the people you care about and the people who care about you can be a quick way to get money. 
It works for me more than 70% of the time, and I get a positive response whenever there's a good reason I'm asking. 
So, come up with a reason to need cash and ask for it from not just your friends, but your relatives and your colleagues at work (who also make up a significant portion of the population of the friends you've got). 
People will give you what you're asking for most of the time, especially if you've got a good reason for why you're asking. 
With more money in your hand, you'll be able to live better generally; buying the things you need and increasing your daily spending limit. 
6. Skip the bar. 
At the bar is where you spend all the money without even realizing it. 
If you're into beer 🍻 or you drink a lot, then this is the time for you to minimize your visit to the bar or completely avoid it. 
It's not going to be an easy task for you but this is one of the things you'll need to drop if you want to live off $1,800 dollars a month. 
Beer 🍺 costs up to $7 bucks. Having several bottles in a week will consume your cash. 
That's cash that would've been spent on more important things. 
I get it, you love drinks. I'm still trying to overcome my soda addiction and so far I'm seeing positive results. 
You can do the same too so that you have just enough money to live off at the end of the day.
On the bright side, skipping beer or drinks in general regardless of the content is great for your health. 
The best liquid to consume is water and it's the cheapest especially if you're getting it for free at home from your tap.
 Tap water 💦 is preferably more healthy compared to other water. And it's definitely healthier to consume than drinks (soda, beer, milkshakes and whatnot). 
7. Split the cash. 
Splitting the cash will work. This way, you can split $1,800 dollars into different cash stacks.
For example, you can split it into 4 weeks of $450 dollars each. 
So, each week you've got $450 bucks to spend. You can do whatever you want to do with the cash but it's gotta last for 1 week. 
The next week, you have another $450 dollars and like this. 
If you don't like the weekly split, you can make it a 10-day split, that'd be $600 dollars. So, in 10 days, you'd have $600 dollars to live off of. 
You get the idea 💡 right?
The essence of this is to live off every cash split within the specified split period. 
It's safer and it's more like having a spending limit, but this time it's not daily.
Recommended: Make $500 a Day in 20 Minutes Work: 9 Guaranteed Ideas that Work 100%
8. Trade to make 2× by month end. 
Trading the financial markets is one of many things that you can do not just to live off $1,800 dollars, but it's a way to make more money so that you don't need to live extravagantly thriftily. 
You don't need to invest your entire $1,800 capital into trading. 
With just $300 bucks, you can buy funded trading accounts to trade profitably with. 
When you make profits, the company takes their cut and you have the rest of the profit. 
There's a catch however; you'll need to be a good trader to get started. 
Now I know it takes a while to learn trading and even more time to become good at it, but then this is a skill that can print you stacks of cash day in and out whenever you decide to trade the financial markets. 
It's not a way to live off $1,800 dollars in a month, but it's a way to generate more income so that you have just more than $1,800 to live off of in a month. 
Adding to this, it's possible to generate wealth from trading the financial markets online. 
You just need to acquire a certain level of mastery (and experience) to get started with trading profitably first and then trading to create wealth. 
Can You Live Off $1,800 a Month? 8 Realistic & Natural Hacks – Final Words.
Coming to the close of things here, some of the things you can do to live off $1,800 dollars in a month include trading the online financial markets to make more money before the month runs out, splitting the cash, skipping bar, saving a portion of the money first, creating a spending limit for every day, buying less especially if it's not planned, skipping restaurant and cooking instead, and asking friends for cash gifts. 
You stand a better chance to not just live off $1,800 a month with these methods, but you could end up having more money. 
Similar posts like this one
Working a 7am to 8pm school & home teaching job in 2021 to make $121 (£94.20) per month, I quit my job to focus on blogging after I earned by first $3 (£2.34) bucks a month from this blog passively without sweat. I never looked back since then. I've written for a couple of websites including Thestrive.co and I've come clean to unveil what works and what doesn't in the real world with regards to making life-changing money. Potentstack is my side hustle turned full-time project where I spill every realistic hack to make money in the real world (online and offline).
Want to learn how I make money blogging? Click here.