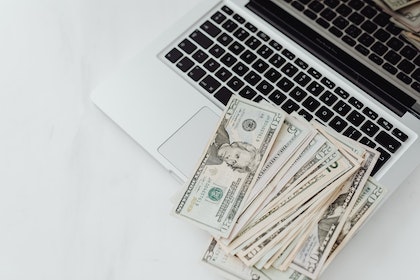 Looking for the best jobs that pay $2,500 a month online and offline? 
You've come to the right place. In this article, I'll share 17 of the best and realistic jobs that can earn you upwards of $2.5k a month online and offline. Some of these jobs cost nothing to start. However, they require you to possess certain sellable skills. 
Recommended: How to Make $5,000 a Day Trading: 9 Realistic Strategies that Could Work
Others might cost you some bucks, but they're highly profitable if you take them not for a hobby but a business. Now if you want to make an extra $2,500 a month, you have two options to explore.
The first:
Start a side hustle or business in the online world and grow it with time while you focus on other things. Or entirely focus on it to scale the growth. 
The second:
Start a physical or offline job and focus on it to make $2,500 a month. This won't be easy, and it's more risky to start a physical/offline business than an online version. With that in mind, here are 17 (offline and online) self-employed jobs that pay $2,500 a month and even up to $200k a year. 
17 Best Jobs that Pay $2,500 a Month Online & Offline
Blogging 
Blogging is definitely one of the best online jobs that pay $2,500 a month and even more money. It's like creating a space on the internet where you share your experiences, stories and more. 
Plus, it's also monetizable so that you make money from visits. When starting a blog, you want to make sure you know exactly what the blog will be about. This way, you won't be writing articles that don't attract a single soul. Blogging is fun if you like to write and learn new things. 
Plus, there's no limit to how much you can make with a blog. It's also entirely yours and not going off the web unless you allow it. 
To start your blog today, read the blog setup guide on this blog. 
Event Planning 
If you're an extrovert and you know the plugs to pull when it comes to organizing events, then you can definitely make up to $2,500 a month as an event planner. To get more event planning gigs, put yourself online and get the world to know about what you do. 
Perhaps the first thing you want to do is inform your friends and family of your new business, and then search for event planning gigs online. 
You can also start up an event planning firm online and make your contact details available to make it easy for potential clients to contact you. 
Options Trading 
Trading the options market is one of the self-employed jobs that pay $2,500 a month. With enough experience in trading financial markets, you can profitably take trades and make a lot of money even with a starting capital of $500 bucks. 
Before venturing into the options market, you want to make sure you know exactly how to trade and you have some expert level so as to not liquidate your account in one day. 
To learn to trade the options market more efficiently even as a total beginner, learn on Ragingbull.com. It's basically a platform where professional traders in the financial markets meet with newbies willing to learn. 
Web Designing 
As a web designer, you can earn up to $2,500 a month taking freelance gigs online that pay you $600 bucks. Do this 6 times a month and you're already earning over $2,500 a month for a start. It's free to get freelance jobs. 
All you need to do is sign up on Upwork, Fiverr, or search for these jobs on Indeed.com. 
Copywriting 
The art of copywriting entails crafting great copies to boost the performance of a product in the market. Copywriters literally write compelling product copies to increase patronage or sales. 
It's way different from conventional writing, but if you possess the skill to make people buy things they don't need by highlighting all the good sides, then it'll be easy to hone your skill into the perfect set of copywriting traits. 
As a copywriter, you can get paid up to $240 per hour depending on your level of expertise. Doing this several times a month can leave you with more than $2,500. And while it's easy to achieve in theory, in practical, it's challenging to get high-paying gigs. 
But you can start by signing up on freelance marketplaces where buyers meet with sellers. The best freelance marketplaces include Upwork, Fiverr, Flexjobs, but you can also get high-paying gigs on Indeed.com. 
Website Flipping 
With enough experience, you can turn buying and selling of websites into an online self-employed job that pays $2,500 a month. And even more. That's what website flipping is all about. 
You buy a website on Flippa.com, work on it a little bit or outsource the blog to a freelancer to create loads of content on it so that it's more valuable than it's initial worth. Just writing contents on a blog can really improve its value especially if it already has the capacity to rank for moderately competitive keywords. 
So you can purchase a website for $4,500 and sell it for $10k after two months of intense work. That's a profit margin of 40% if you spend $1,500 on expenses (hiring writers and using paid plugins to track metrics). 
Facebook Ads Expert
As a Facebook ads expert, you can greatly improve the performance and exposure of businesses. And they're willing to pay thousands of dollars for your services. If you're not skilled in the area, there's a lot you can learn online without paying a dime. 
To get gigs that pay well, you can sign up for free on Upwork or Fiverr and really make a ton of money searching for Facebook ads gigs or pretty much any side job you can do. 
Crypto Trading 
Trading the crypto market, $2.5k a month is attainable but not when you're a complete beginner. 
If you want to really make a lot of money, much more than $2,500 a month, then you'll need to invest in yourself by learning all you can about risk management, strategies to trade, and timeframes too. Again, trading with a lot of money can guarantee a lot of profit in return. The more money you trade with, the more losses or profits you incur. 
Affiliate Marketing 
One of the ways to make money without having any money at all is by promoting products on social media and getting paid a commission when someone buys your products. People buy things online everyday. Your friends, family members and loved ones. 
Several times in a week, they peruse Amazon products and order things. You can start from there. Join the Amazon affiliate program for free and share your affiliate link with your friends and family. 
Whatever they buy from Amazon, you keep the commission. Just like Amazon, there are other companies with affiliate programs. You can start an affiliate blog to review products, or a YouTube channel for the same purpose. 
Animation Designing 
If you're great at creating animations, you'll make a lot of money no doubt. If you're really good. A lot of freelance employers or clients are in need of designers for their projects. You can get these gigs on Upwork or Fiverr, and charge up to $700/project or $25 an hour. 
The more jobs you do, the more you up your freelancer portfolio on these freelance platforms. So it definitely won't be easy to get gigs at first. It's totally normal. 
Transcription
If you're still looking for jobs that pay $2,500 a month without a college degree or some highly brainy skill, then transcription is one of them. You can freely become a transcriber by signing up on freelance marketplaces. 
It's possible to make a lot of money enough to quit your job by transcribing files (videos and audio files) regularly. While this won't guarantee passive income, it's a way to work from home online and earn up to $2,500 dollars a month. 
Babysitting
Babysitting is a fun job as babies are beautiful. And as a beautiful friend of mine puts it, babies are blessings. With a lot of people rushing to work everyday, they don't really have the luxury of time to cater for their toddlers. 
Especially single parents. But this is where you fill in the gap and get paid per hour. It's a self-employed job that's really fun and loving, and you can get babysitting gigs on Babysits.com or Care.com. 
Virtual Assistant
As a virtual assistant, you can get paid up to $2.5k per month writing blog posts, responding to emails, editing articles, organizing social media pages, and other tasks virtually. 
The good part is that you don't have to leave your home to do any of this, and you probably flex some of these prerequisite skills surfing social media and editing long stories everyday. 
Micro Tasking
Without any skill or going to college, taking side jobs like performing random tasks can get you to $2.5k a month. 
You can do this when you're less busy or want to make some quick bucks working multiple random jobs. This is an online job first and then an offline job basically because you get the jobs online but perform them offline. 
So you can become a Doordasher delivering food items to different clients using Doordash (which is most favorable if you own a car of your own), perform random tasks on Taskrabbit.com, Indeed.com, Craigslist, or Flexjobs.com. These are great places online to get random tasks that pay a decent income. 
Youtube
The real definition of passive income is the one you make on YouTube where you just upload videos, get views, and make ad revenue. 
In theory, it's easy. First of all, you'll need to start a YouTube channel with a goal or a niche in mind. A niche is basically what your channel will be about. This helps to build a community of viewers interested in that niche. 
And it'll increase your subscriber count too because when they love your content simply because it resonates with them, it'll be easy to click on the subscribe button versus having a channel that's just about anything. 
You need an audience, and the first step before launching a YouTube channel (or any other business online) is to define your audience by focusing or figuring out your niche. That's how YouTube works. 
And even before hitting the standard 1k subscriber count, you can make money from affiliate commissions (recommending products to your target audience). 
Making your channel all about one or two interwoven topics is a great way to increase the engagement on your channel. And trust me, YouTube thinks about user engagement when bringing videos up in the search page. 
You may not make $2,500 a month right out of the door with a new YouTube channel in the first few months, this is because it takes time for YouTube to fully recognize your channel, appreciate its content and reward your efforts. 
A bunch of YouTubers record massive success from 3 to 6 months of consistent work. 
Virtual T-shirt Designing
A great self-employed job that pays $2.5k+ a month with time is t-shirt designing. Get started with a free account on Teespring where you design t-shirts and upload it to your personal virtual store (on Teespring). 
It's totally free to get started, and this can become a passive income stream for you in the long run. You just have to create a lot, and by a lot, I mean a lot of t-shirt designs for all seasons, weather swings, events, and a lot more you can think of. 
It'll take a long time to really have thousands of designs. But the more designs you have on your Teespring store, the more money you'll potentially make as customers see more of your designs on the search base. 
Recommended: How to Make $17 Million Dollars: 10 Smart Ideas
Online Tutoring 
Selling courses online can be a great way to generate passive income. 
All you really do is create a course on something you're able to teach complete beginners, something that's not all over the place already, and upload it on Udemy.com. The platform is visited by millions of people every day, and these people are beginners looking to learn something new and they're willing to pay. 
So if you're able to build a great course (video or text based), you can really make tons of money uploading it to Udemy. Plus, it really has to be a great course. 
17 Best Jobs that Pay $2,500 a Month Online & Offline – Summary 
To make $2,500 a month online or offline, you definitely need to start a self-employed job or business of your own. 
Now this self-employed job can be blogging, babysitting, Airbnb hosting, online tutoring, micro tasking, crypto trading, website flipping, online tutoring, copywriting, options trading, t-shirt designing online, affiliate marketing, animation designing, event planning, Facebook ads setting, transcription, web designing, YouTube content creation, or virtual assistance. 
Either of these self-employed jobs can generate up to $2,500 a month for you. And some can become a long lasting source of passive income. 
One factor to consider here is time, because earning $2,500 from any self-employed job or side hustle, whatever it is, doesn't happen immediately.