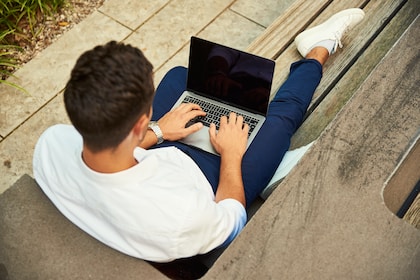 Self-employed jobs IMO are the best kind of jobs you can do. This is because they give you enough time to spend doing other things you like and they don't limit your earning potential. 
With a self-employed job, you're the boss. And there's really no boss asking you why things aren't in order. With that said, working from home is another great experience. If you're a mom, you have time to spend with kids and your spouse. 
Recommended: Dirty Ways to Make Money in the UK: 9 Pure Hacks
If you're a single dude like me, you have a lot of time to think, watch Netflix, do the things you love and spend time with those you care about while earning enough money to live a sustainable lifestyle. 
If you're looking for the best self-employed jobs from home in the UK that can earn you enough money to quit your day job and be truly the self-employed boss, I've got you. This article explains some of the best self-employed jobs that you can start up with very little money in the UK, and reap the rewards in a couple of months. 
While these jobs can change your life working from home, they don't pay you or start generating cash the next 24 hours. It'll take you time to start making a ton of money, just like every other physical business out there. 
Moving forward, here are 9 best self-employed jobs from home in the United Kingdom that pay really well. 
9 Self-employed Jobs from Home in the UK that Pay Well
Blogging
There are a lot of jobs from home in the UK that pay well, but blogging stands out. If the word "blogging" is strange to you, don't worry I'll explain. If you're not a newbie to the term "blogging", skip the next paragraph. 
Blogging is all about sharing information online with the use of a website. Like this page you're reading right now is a blog. And a blog is different from a normal website because it is frequently updated with photos, blog posts, videos and more. 
The point is, blogging is the art of starting a website and consistently publishing information on it. The best time to start a blog is right now. The next best time is right now. It's never too late, but the earlier you start blogging, the better. 
With a blog, you can slowly grow your income from £0 to £100/month, and then to £1,000, £10,000, and even £100k/month. It's one of the best ways to build a solid passive income stream on the internet and it's not a rosy path to trundle. 
The honest truth is, it's not that easy to grow a blog, and starting a blog is the easiest part of the story. After launching a blog, there's a lot you'll need to do so as to make money from it with time. 
I cover every step from starting a blog with Namecheap to growing it from £0 to £8k+ per month in a couple of months (depending on how consistent you are and on what you can leverage) right here. 
Freelance Writing
Freelance writing is simply writing for people online and getting paid to do just that. 
If you love writing, you can make money from home in the United Kingdom by signing up for free on Upwork and searching for freelance writing gigs that pay well. It's free to get started writing on Upwork, and you can also send cold pitches to different businesses. 
As a freelance writer, you can get paid up to £0.03 per word for an article. So if you write a 1,000-word article, that's £30. And you can do this multiple times for different freelance employers. 
You decide whom to work for, and when you want to work. Talking about cold pitching, it's one of the ways to get high paying clients as a freelance writer. Through cold pitching, you get clients willing to pay £600+ per article. 
Website Flipping 
Flipping websites for profit is one of the many online jobs that pay well while you work from home in the UK. Website flipping is a term for buying and selling websites for money. You can buy and sell websites easily on Flippa, but you need to learn how it's done. 
It could take months to sell a website and really make a lot of money from it. Alternatively, if you're the patient type (like me), you can start a bunch of new websites and grow them over months or years just to sell them for thousands of pounds. 
With around £80/year, you can start a website, and sell it for £10k+ after a year. The truth is, you'll need to master the art of growing new websites until they're worth several thousand pounds. 
So if you start 5 websites, execute your growth hack on all of them to grow their traffic and authority over the next 12 months, you could sell them for about £60k collectively. That's a profit of £59,600 (starting each website for around £80 pounds). 
The most common way to flip websites and make money in a couple of weeks or months is to buy a website and resell it almost instantly for some hundred or thousand bucks in profit. Buying a website for around £5.6k, you can easily resell it for £6k or £6.5k, depending on the traffic and authority of a website. 
You can totally amplify the worth of a website just by adding more contents, tweaking the design, and building a little more traffic to it. These little changes can put an extra £5k or £8k in your pocket. 
Dropshipping
Dropshipping is one of the best jobs from home in the UK that can really make you a lot of money. If it's a new word to you, dropshipping is all about building an online store, importing products from another online store and promoting your store to get more visitors which means more orders and more money. 
You make money from dropshipping by adding a markup to real product prices after importing the products from an ecommerce website like Amazon or AliExpress. 
It's not free to start, but you can easily build your store with professional designs and features on Shopify before learning everything about making your store stand out. 
Online Tutoring 
If you're looking to make money from home in the UK, then you can teach online and get paid. No need to go out of your house as websites like VIPKid will pay you up to £12 an hour tutoring online. 
Aside from working on VIPKid, you can easily find virtual teaching jobs on Indeed that pay up to £30 an hour. Back to VIPKid, it's free to register, but you'll need to possess some form of academic qualification to qualify as an online tutor. 
Earning £12 or more an hour on VIPKid as an English tutor, that's about £36 in 3 hours working from home. And in a week (calculating with 5 working days), you have £180 already. It's no small money working from home at your convenience. 
Drop-servicing
Drop-servicing is simply outsourcing a service and making profit by doing so. Let's say someone wants to design a website and is willing to pay £300 bucks. You come in as a freelance web designer, but outsource the job to someone willing to do it for £150 or £200. You keep the profit of £100. 
Where to get freelance gigs to drop-service?
To get started, you can sign up for free on Upwork and search for gigs that you can outsource easily for profit. There are also online jobs on Indeed.com that you can outsource for a lot of profit. 
It's not a rosy path to making money online in the UK basically because it takes time to find a good gig and someone willing to do it for less money unless you personally know someone. 
Maybe a friend or a friend of a friend. Or a neighbor. The drop-servicing cycle works like this: 
You take up services from clients. 
You outsource them to experts willing to do them for less money. 
The experts submit the jobs to you. 
You pay off the experts, and submit the jobs to clients. 
You get paid more.
It's a simple concept. But in reality, it can be a little more challenging. 
Course Sales 
By selling courses online, you can definitely make money working from home. If you're good at something or you know something pretty well, you can create a course to teach people willing to learn, upload it on Udemy and get paid from your course sales. 
Before submitting any course to Udemy, they have a criteria every course must pass muster with. So your course has to be worth it. If it takes you two months to put a great course worth £2k together, then get to work. 
Your online course can either be a video tutorial or text course, like a guide. It depends on how you want to go about it. Bottom-line, selling courses online is one of the best jobs from home in the UK. 
Options Trading 
Trading the options market in the UK, you can make a lot of money working from home. 
Before getting into this line of online business, you'll need to learn everything you can about trading the financial markets (stock, crypto, and more). 
Same rules apply most of the time when trading stock, crypto, indices, and options, but the volatility momentum is different for every market. So, you want to learn to not lose money while trading the options market, and approach things with a business perspective, not just a hustle. 
Recommended: How to Turn £10k into £100k in the UK
YouTube
Starting a YouTube channel is free. 
You don't spend a dime, and in the long run, if you're consistent enough, you can make a lot of money working from home in the UK off your free YouTube channel. 
It's not that easy in reality, it only takes quality video creation over a long stretch of time to get there. A bunch of YouTubers earn over £2 million a year from their channel. You just need to know how best to do it and get to work. Don't expect to see crazy stats after one, two, three, or even six months of starting your YouTube channel. 
9 Self-employed Jobs from Home in the UK that Pay Well – Summary 
Still wondering how to make money working from home in the UK? These are the best self-employed jobs you can start up. 
To run through them, you can either start a blog, a YouTube channel, sell courses online, get into dropshipping, flip websites, or write for multiple clients as a freelancer. The easiest one off this list is to trade the options market. 
The profits and losses are instantaneous, but you don't want to keep losing, which means you'd have to master the art of trading first. Now with all of these self-employed jobs, it'd be easy to think making money from home is an easy deal. 
It's not. 
It takes time, effort, and patience.