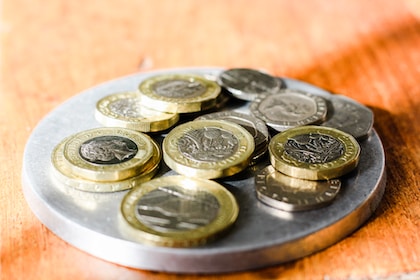 Thanks to the internet, making money fast has become a reality unlike when we didn't have the web to milk for money. 
Take for example, I grew this blog from nothing to £109/month in 6 months of blogging. It's not fast, but it's the internet. 
And that's just from the ads you see on the blog. 
Recommended: 12 Best Jobs that Pay £5,000 a Month in the UK
However, blogging isn't one of the best ways to make money fast in the UK. 
It's just a reliable way. And I've said all of this to pinpoint the fact that you can make money online and make money fast also on the web. 
This article explores 10 smart methods on how to make £1,000 fast in the UK. 
You can skim through every point and easily get the idea. They're self-explanatory. 
How to Make £1,000 Fast in the UK: 10 Smart Methods. 
1. Trade stocks. 
Quite a popular one, but trading the stock market is a profitable deal. If you're good at trading, you can day trade the markets to make money for yourself. 
While it's not as volatile as the crypto market, it's really stable. 
I recommend getting started with a stable market online, like stock markets, so you're not thrown off by the volatility of the market as it could happen really fast with other types of markets online. 
Especially the crypto market. 
If you want to get started with your trading experience, sign up on Robinhood right away. 
It's a top stock trading platform for newbies and experts in the 21st century. 
2. Trade crypto. 
Of all the online markets, I pick crypto as my personal favorite. It's easy to learn, and you can make more money off it by trading the futures session. 
On futures trading, you have the option to increase your risk and propensity for you to earn big while incurring more risks. 
You can trade more markets with very little cash. But that's only regarding futures trading. 
Again, the crypto market stands to be the most volatile online, and trust me, you can be one really rich human if you gain mastery of how the market really works. 
3. Forex trading. 
Before I ever made my first income from the internet, I've heard about trading forex like a thousand times. 
And till today, it's still one of the ways to make money on the web. 
Trading the foreign exchange (or Forex) market can be risky just like stocks and crypto, but it's highly rewarding if you're good. 
And that's if you're willing to learn to the point where you're able to minimize losses. 
It's a market on the web, and losses are a norm. Come to terms with this and trade with an open mind to make profits. 
However, trading the Forex market isn't entirely free either. 
You need money to get into the system. 
4. Binary options trading. 
Binary options is one of the practical ways on how to make £1,000 fast in the UK because you can start trading it and making money right now. 
Right now. 
Yes. 
Binary options is a short-term market. 
This means that you can trade within minutes and even seconds too. It's either you win or you get nothing. 
So, basically, you need to learn a ton of stuff about trading binary options before getting started. 
Thankfully, there are a couple of binary options brokers that allow you to have a demo account with which you're free to test out working strategies before eventually trading. 
My top pick is Pocketoption. 
Although I've had some negative experiences with them. 
But at the end of the day, they're trying to make sure you're safe with them. 
5. Sell your jewelry. 
Want to learn how to make £1,000 fast in the UK? Look no further. 
You can sell your jewelry to make this happen. 
If you've got pure original jewelry, you can sell them off to make up to £1,000 fast in the UK. 
Alternatively, you can check the internet to see jewelry that is very cheap, you buy them and resell them on the internet for more money. 
It's a really cool idea and it's realistic. 
The thing is, you'll need to learn how jewelry trading works before jumping into it. 
6. Resell items online.
Do you know you can get costly items at a cheap rate and sell them for the original price online? 
That's what's called flipping items online. 
So, from thrift stores to church rummages and then to garage sales, you can get good products for a very cheap rate and resell them for what they're actually worth online. 
Imagine getting a £45 t-shirt from a garage sale at £6. 
Selling it online will earn you a gross income of £45, but a net of £39. 
Venturing into this idea isn't going to be a cheap one. 
This means you'll need about £200 bucks to start buying cheap products from physical sales points, and sell them online at moderately high rates. 
7. Do traffic arbitrage. 
One of the realest ways on how to make £1,000 fast in the UK is to venture into traffic arbitrage. 
It's a fairly simple idea; buy web traffic and monetize it. 
So basically, you build a website or a blog (they're ideally the same thing), buy web traffic to the blog and make sure it's a booming blog already before applying to an ad network with which you're able to monetize your blog. 
One hint to make this work is to make sure you have original viral contents on the blog. 
Top reputable ad networks won't accept your blog into their program if it's spammy and bathed in copied contents. 
8. Sell your services online.
Are you a freelancer? 
Then you can make £1,000 fast in the UK by working online as a freelancer. 
Basically, freelancers are carriers of talents. 
From writing content to doing voice overs, freelancers run the online world. 
If you're stuck and you don't know what to do about making videos for your YouTube channel or you want to make a cool design for your business, you can beckon on freelancers to help you out. 
Every freelancer isn't the same. 
And that's why some are more expensive than others. 
To become a freelancer, you must have a skill; writing (it's mine), editing videos, coding, animation creation and so on. 
Once you're good at something, you can start looking for gigs that pay well on Fiverr, Upwork and Craigslist. 
9. Run random tasks. 
By running random tasks in the UK, you can definitely make £1 grand. 
But it won't happen in a single day unless you come across multiple gigs that earn you a lot of money. 
To get started, you can sign up on Flexjobs (premium) or Taskrabbit (free). 
Both platforms are good for finding random tasks you can do for money. 
On Amazon Mechanical Turk, you can also get gigs but from the avalanche of bad reviews about not getting paid proportionally to the effort you put into working, it might not be worth your time. 
But then, Craigslist is there for you. 
You can make a search on Craigslist to see gigs around your city that you can do. 
There's a boatload of tasks on Craigslist willing to pay you up to £20 bucks.
You can do this over and over again as your strength permits.
Recommended: 12 Best Jobs that Pay £100 an Hour in the UK
10. Drive for Uber. 
With the help of Uber, you can quickly make £1,000 pounds in the UK. 
But firstly, you'll need to have a car of your own to get started. 
Driving Uber or any other ride-sharing services can work if you have your own vehicle. 
If you don't, you can get one or borrow your relative's vehicle to get going. 
You make more money with more trips on the ride-sharing service. So, the more you work, the more you earn. 
The good thing about working as a driver for Uber is that you're your own boss. 
You choose to wake up any hour of the day and work when you want to. 
There's no boss anywhere telling you what and what not to do. You're that boss. 
And if you truly want to make £1,000 fast in the UK, then you must be willing to work more hours. 
This could happen in the space of 3 to 5 days depending on how many hours you put into your work. On average, you can earn about £12 pounds per hour. 
That's £120 pounds in 10 hours. 
Okay, I take my words about making £1,000 fast in 3 – 5 days back. 
You can make this happen in about 8 days. If you ask me, that's fast money. 
How to Make £1,000 Fast in the UK: 10 Smart Methods – Final Words. 
While it's not the easiest thing to make £1,000 fast in the UK, it comes with risks of losing your money (or any money you're looking to invest to make £1k pounds). 
On the bright side, you can make much more than £1,000 pounds with these methods if you're lucky, especially when you're exploring the online markets. 
Trying out ideas like Uber driving, running tasks around your town, selling your services as a freelancer, and selling your jewelry incur less risk versus the other ideas on this list. 
With all of this noted, there's a higher chance of generating lots of money capitalizing favorably on every idea here. 
Similar posts like this one
Working a 7am to 8pm school & home teaching job in 2021 to make $121 (£94.20) per month, I quit my job to focus on blogging after I earned by first $3 (£2.34) bucks a month from this blog passively without sweat. I never looked back since then. I've written for a couple of websites including Thestrive.co and I've come clean to unveil what works and what doesn't in the real world with regards to making life-changing money. Potentstack is my side hustle turned full-time project where I spill every realistic hack to make money in the real world (online and offline).
Want to learn how I make money blogging? Click here.