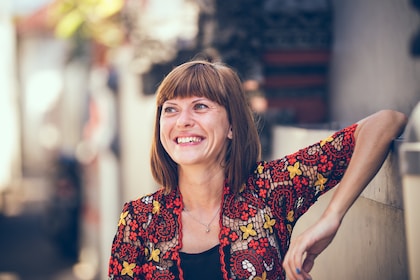 Looking for the best self-employed jobs for over 50s and 60s? 
Right in this article, you'll get the finest list there is. 
Some of these self-employed jobs take some time to mature enough to start generating a real income. 
Others take less time. 
A couple of them are passive income streams, and a bunch aren't passive income. 
Recommended: How to Make $300 Dollars in a Month As a Kid: 9 Smart Ideas
The point is, you can make real money off them and you determine how much success you want to see with the self-employed jobs. 
If you're passionate and determined, then you can easily transition your preferred self-employed job from a hustle to a business. 
With this in mind, here are 13 best self-employed jobs for over 50s and 60s. 
13 Best Self-employed Jobs for Over 50s and 60s in the 21st Century. 
1. Blogging. 
With this article being my 401th article on this blog, I can say that blogging has changed my life. 
I do this full-time now while I spend time trying to do other things in my life that I'm pretty much interested in. 
For me, blogging is a business.
And it's one of the best self-employed jobs for over 50s and 60s in this century. 
So, blogging is all about creating a platform like this one online where you publish content about what you're passionate about. 
With time, you'll be able to grow an audience and monetize your blog to make money.
For me, I like making money and I know a lot of ways to make money online and offline in the real world. 
So, Potent Stack is basically a money blog. 
And I make money off this blog too. 
It's passive income and I just have to create content about what I know. 
There are multiple ways to make money off a blog. 
But that's everything you'll see right here. 
And if you don't have a blog right now, it's not too late to start one right now in your 50s or 60s or even if you're in your 70s. 
No kidding. 
Recommended: Starting Over at 45 After Divorce: Your Brand New Life in 9 Hacks
2. Ebook sales. 
Selling ebooks for money on the internet is easy. 
All you have to do really is to create the ebooks and upload them on Amazon for sale. 
You can write on a variety of topics and sell them for up to $8 dollars. 
Of course, all you can do is write and add images where necessary. 
If you want your readers to visit a website or another page off the ebook, you can add links in your eBook and even promote other products (that are yours or affiliate products) within the ebook. 
The entire idea is that you can make money in your 50s or 60s by selling ebooks, and you can turn this into a self-employed job by committing a reasonable amount of time to create multiple ebooks and watch their performance as they make sales. 
3. Course sales. 
Selling courses online is one of the best self-employed jobs for over 50s and 60s. 
If you're in your 50s or in your 60s, you can create a course on what you're very knowledgeable about and sell it online. 
This will be easy for you if you already have an audience online and if you're already a renowned name in that area where you're knowledgeable. 
If you don't have an audience online, you can still create a course and make a ton of money from selling it online. With the help of tools like Thinkific, creating a course is easier than ever. 
And while the income from your course sales will be passive, it can also be fat enough to transform your life for the better – this means you can make life-changing money from selling information materials/products like your course. 
4. Daycare. 
A daycare center is also one of the self-employed jobs that for over 50s and 60s in the world today. 
You can make a ton of money from starting your own daycare business where people come off to drop their kids or babies before going to work. 
But then they come back later in the day to pick them up. 
Parents or guardians dropping their kids off before they go to work can pay weekly, biweekly or monthly depending on what you want them to pay and how you want it. 
5. Pet walking. 
Walking pets is a self-employed job because you choose what kind of pet walking gig you want to take. 
In your 50s and 60s, this can be a way to exercise your muscles and still make money from doing it. 
If you're experienced with pets, it'll be easy. 
Plus, you don't need to do anything but search for pet sitting gigs online with the help of platforms like Sittercity, Rover, and Care.com. 
This isn't going to make you rich in your 50s or 60s, but it'll make you some money for sure. 
6. Freelance writing.
I keep saying it, and I'll say it again – writing is a gift. 
Now, in your 50s or 60s, you can write online to make money. 
You can write as a freelance writer or ghostwriter for clients on Upwork, Fiverr, Freelancer, Craigslist, LinkedIn, and Problogger. 
You can also write as a paid contributor on websites that are willing to pay you to write for them. 
Either way, freelance writing or writing online for money is a self-employed job for over 50s and 60s. 
No cap. 
Depending on how much effort you put into writing online as a freelancer or a paid contributor, there's a good chance you can earn up to $10k/month.  
7. Copywriting. 
Another self-employed job for over 50s and 60s is copywriting. 
Simple, but you'll need the prerequisite skills to make money as a copywriter even in your 50s or 60s. 
So, the first step is to hone your copywriting skills, which isn't a difficult thing to do if you already know how to write well. 
Next up, find copywriting gigs by searching on platforms like Upwork and Clearvoice. 
You'll also find copywriting gigs on Indeed, LinkedIn, Craigslist, and Fiverr. 
Although freelancing isn't going to make you tons of money especially if you're just starting, copywriting is a specific skill that can earn you life-changing money. 
And it's one of the highest paying freelance viable skills anyone can acquire. 
8. Proofreading/editing. 
Are you good at proofreading and editing documents whether it's online or offline? 
Then you have no problem taking up proofreading or editing gigs online as a freelancer. 
You can make money in your 50s or 60s by doing this. 
Plus, you don't need to spend a dime to get started as a freelancer in this regard. 
You can simply search for proofreading and editing gigs on freelance marketplaces like Upwork, Fiverr, and Craigslist. 
On job boards like Indeed and LinkedIn, you'll also find job postings pertaining to editing and proofreading. 
9. Consultancy. 
In your 50s and 60s, you can offer consultancy services in a variety of fields that you're good in or that you have expert knowledge on. 
While creating a course or an ebook to disseminate the information you already mastered, some clients would rather want you to help them out directly. 
And most of the time, this costs a lot more money. 
Consultancy is one of the best self-employed jobs for over 50s and 60s. 
And if you fall in these age brackets, you can make money from becoming a consultant in your own area of expertise. 
10. Life coach. 
Tons of young people want to know what you know and they'll be willing to pay you good money for you to coach them.
Life coaching is a self-employed job for over 50s and 60s, and there's every need for you to be in a good state emotionally and financially before thinking about a self-employed career path in life coaching. 
You can have multiple clients under your watch. 
And you'll need to be able to guide them towards achieving their goals. 
Now, if you've got some emotional downsides like untameable anger, it'll be difficult to successfully guide people or counsel them without hurting them even further. 
11. Event planning. 
If you can pull strings and call shots when it comes to event planning, then you can make this a self-employed job for yourself in your 50s and 60s. 
You don't have to do everything yourself. What really matters is the contacts of different professionals who make an event come alive. 
So, you can get in contact with these people and have a book where you write down their fees and contact details so that you can outsource events to them depending on the budget of the event host. 
Event planning can be fun too. 
And as you do it regularly, you build an audience base.
12. Affiliate marketing. 
For the record, affiliate marketing is one self-employed job that you can do in your 50s or 60s to make a lot of money. 
But first, understand what affiliate marketing is, and how best to do it. 
The entire concept of affiliate marketing is wrapped around promoting products known as affiliate products, and making a certain percentage in the form of commissions. 
So, basically, the more sales you're able to generate promoting and recommending these products, that's all the more commissions you'll earn. 
And trust me, you can make tons of money this way.
Recommended: How to Get Rich ASAP? 11 Mind-blowing & Realistic Ideas
13. Drop-shipping. 
Launch a store and connect it to another store while you tweak the prices on your store for moderately for maximum profit. 
This is something you can do in your 50s or 60s. 
Plus, you do everything online and you can set up your drop-shipping store with the help of Shopify. 
Oberlo is another tool you'll need to get started with drop-shipping. 
However, you'll need to read and learn about drop-shipping before jumping right into it. 
While it's almost the same thing as traditional e-commerce, it's easier to do and easier to run at a loss too with drop-shipping. 
The key to success with drop-shipping depend on several factors including the viability of the products involved. 
13 Best Self-employed Jobs for Over 50s and 60s in the 21st Century – Final Words. 
Ultimately, some of the best self-employed jobs for over 50s and 60s in the 21st century (or in contemporary times) include life coaching, course sales online, event planning, affiliate marketing, drop-shipping, blogging, ebook sales, pet walking, daycare, freelance writing, copywriting, proofreading, and consultancy. 
Now, there are other self-employed jobs out there for 50+ year olds, but the ones on this list can generate some real money for you. 
Similar posts like this one
Working a 7am to 8pm school & home teaching job in 2021 to make $121 (£94.20) per month, I quit my job to focus on blogging after I earned by first $3 (£2.34) bucks a month from this blog passively without sweat. I never looked back since then. I've written for a couple of websites including Thestrive.co and I've come clean to unveil what works and what doesn't in the real world with regards to making life-changing money. Potentstack is my side hustle turned full-time project where I spill every realistic hack to make money in the real world (online and offline).
Want to learn how I make money blogging? Click here.