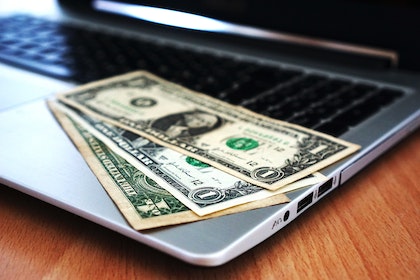 With an extra $100 a day going to your bank account from your side hustle, it's more money to live off of. 
At the end of the month, you have $3k+ from a side hustle. 
Honestly, it wouldn't be easy to make $100/day consistently, even if you have a day job – you'd still have to work your life out every single workday of the week. 
Recommended: How to Make $15,000 in a Month: 10 Smart Ways
With that said, making $100/day from a side hustle is a relief, and an extra $3k/month is a lot of money (coming from a side hustle). 
However, there's a possibility to grow your side hustle into your full-time job. 
And in this article, you'll learn about the best side hustles to make $100 a day, some of which can generate as much as $1k/day or $30k/month (which can be enough money to replace your day job and have uncommon peace of mind) if you put in the extra work. 
Here we go. 
17 Best Side Hustles to Make $100 a Day. 
1. Blogging. 
Honestly, I think blogging is one of the best ways to make money online. 
And it can also be a side hustle to make $100 a day, but then it takes a lot of effort to take a blog from nowhere to the point where it's making an average of $100 a day. 
Another reason why I believe blogging is one of the best side hustles for just about anyone to start doing is because it's cheap to start and you can blog from anywhere in the world. 
If you'd like to blog from your bedroom, you can do that too. 
I literally blog in my boxers every day. 
Okay, I do that most of the day but not everyday though. 
For the record, you can generate enough money off blogging to quit your day job and to travel the world. 
While $100 a day from blogging is a good number to shoot for as a starter or a new blog owner, there's a high possibility for you to generate as much as $50k a month with time as a standalone blogger with no protocol or huge team. 
With that said, there's no better time to start a blog than now if you haven't started blogging already. 
And this blogging guide is all you need to start a blog that makes money in the real world. 
2. Affiliate marketing. 
Another side hustle to make $100 a day is affiliate marketing. 
Firstly, you become a marketer for online products and then you channel every of your effort into promoting them so that they're able to generate sales and make you money. 
Basically, you'll be making a small cut off the sales of these products you promote as a marketer. 
Based on your affiliation as a marketer for these products and on the basis of your benefits as a marketer, the term "affiliate marketer" is coined. 
As an affiliate marketer, you make money in the form of commissions, and for every sale of the affiliate products you promote, you earn commissions. 
To make $100 a day, you want to become an affiliate marketer for the best products online – products that aren't cheap and that have a fat and formal (business-oriented) online audience. 
Your medium of promotion also matters a lot. 
You don't want to spend money on ads before making a single sale; it could work but it's not worth it at the end of the day and it doesn't guarantee daily affiliate income. 
So, learn about affiliate marketing from the best guys in the industry and find your way around it. 
In my own way, I'd build a blog to become an affiliate giant around a particular niche and comprehensively create content with affiliate buying "order" buttons alongside other captivating call-to-actions that lead to sales. 
3. Ride-sharing. 
If you own a car, then you can drive around town from time to time, taking random passengers from their location to their desired destination for money. 
For every trip you take, you earn some bucks. 
However, you'll need to sign up with services like Uber and Lyft to reach their passengers. 
There are other ride-sharing services out there, but Uber and Lyft take the Lion's share of the market. 
While it's possible to earn as much as $500 a day (uncommonly) as a ride-hailing/ride-sharing driver, $100/day is a base minimum. 
Another thing is, the longer you work, the more money you're likely to make from ride-sharing. 
4. Course sales. 
If you're knowledgeable about a particular field of interest, there are thousands or millions of people willing to learn from you. 
By launching a course online, you'll be able to tap into one juicy online side hustle to make $100 a day and also provide value simultaneously while your name metamorphoses into a household name in that niche or industry. 
You're basically killing three birds with one stone. 
But then, the reality is that you barely have an audience to sell to and you don't know how to create a course to sell. 
It's not impossible to still make $100/day off course sales. 
You'll just need to spend some more money. 
Firstly, you'll tap into the power of tools like Thinkific to create and design your professional course, and then you can submit your course to Udemy, and promote it on social media to get more eyeballs on it. 
5. Social media influencer. 
You can make this a full-time job or part time. 
It's fun to create content on social media, and even more fun when you have a large audience on social media platforms like Tiktok, Facebook and Instagram. 
So, if you're an influencer, you can earn much more than $3k/month from your dealings, some of which will include posting sponsored content on your page, creating content for brands, promoting products you don't own or affiliate products, and selling your own products. 
If your fame is tagged to a niche or an industry like skincare or fashion, you'd be able to make more money from selling your own products. 
This also depends on the number of followers that you've got. 
The more followers you have, the more money you can print. 
6. YouTube. 
On YouTube, the goal is to create content. 
But YouTube can easily become a side hustle to make $100 a day and even more. 
Get creative around content creation, focus on a niche, be consistent, learn YouTube SEO, monetize your channel wisely. 
It'll take me another 4,000 words of text to explain all of these in detail, but then, stick to what works for you. 
I'm 100% certain that the CECOQ technique will work. 
And by the CECOQ technique, I mean Consistency, Engagement, Captivation, Optimization and Quality technique. 
Consistently upload videos; your videos should be engaging and captivating; optimize your YouTube videos to rank high on YouTube search, and your videos should be high quality (even if you'd have to get a camera for this or a good iPhone or Samsung for recording). 
Consistency or frequency is a YouTube algorithm too. 
So, the more you post good stuff that rhymes with CECOQ in your niche, the more chances you have at ranking higher for search and getting more subs. 
Once activity that improves engagement is getting your audience to know you; put your face in the camera. 
It's a side hustle, it doesn't hurt to be the face of the hustle. 
7. Online trading. 
Trading online is risky, but it easily adds up on the list of the best side hustles you can do to make $100 dollars a day. 
There are several financial markets out there, and the more you know about them, the better of a trader you'll become. 
You need to focus on one first if you're just starting out. 
And the one I'd recommend you start with is crypto. 
It's what I started with and I have over 3+ years of experience trading the crypto and binary options market. 
You might want to start with crypto, or stock, or Forex. 
The bottom line is, you can make $100 dollars a day even if you take them for a side hustle and trade them when you're back home in the evenings from work. 
8. Tutoring online. 
Do you know there are websites that'll pay you to teach their database of students? 
Right now, you can sign up with these websites to start making money. 
You can also work with these websites on the side while you keep a full-time job. 
And they don't pay pennies, they pay well. 
Some of these websites include Oneclass, Cambly, Qkids, iTalki, Tutor.com, TutorABC and whatnot. 
So, making $100 a day is doable if you're able to work for as many hours to reach that goal. 
Again, some of the websites will require you to sign up with some certificates that prove that you're eligible. 
Not all of them, but just some of them want to know you're not just an average Joe looking to teach/tutor for the money. 
9. Landscaping. 
Landscaping is for experts in the field and it takes years to become one. 
If you're not an expert, you'd want to try out some other options on this list. 
If you're a good landscaper, it's possible to make $100 a day and still take it like a side hustle because you're not going to get landscaping gigs every single day. 
So, you can focus on some other side hustle or job that guarantees a more stable income while keeping an eye out for landscaping gigs. 
Your audience are property owners, people who own apartments and structures. 
So, it'll be more rewarding to promote your business on social media to reach more potential clients, and also advertise on search engines to show up for local searches like "landscaping services near me". 
Other than promoting on search engines and social media, you can get gigs on websites like Indeed, Craigslist, and Google Jobs. 
10. Lawn mowing. 
Mowing lawns is one of the many things that you can do to make quick money. 
It's not also guaranteed that you can make $100 a day off mowing lawns every day because you don't get gigs like this every day. 
They come and go. 
But making $100 a day off this side hustle can be a one-time reality, and then there'd be a vacuum until the next reality shows up with an offer for your services. 
A key to frequently getting gigs like this is to go all in into promoting yourself as a lawn mower or as someone who's into lawn mowing. 
You can promote your services to get more gigs and also browse through websites like Craigslist and Indeed to get gigs. 
11. Freelance writing. 
Writing is a gift. 
It's been around for thousands and thousands of years, and it's no wonder people write online and make a living off writing. 
So, if you want a side hustle to make $100 a day and you're good at writing, then you can become a freelance writer free of charge. 
It doesn't cost a dime to become a freelance writer, all that's needed is your skill. 
You can work from home or anywhere you'd like to, and work for multiple people on the internet. 
As a freelancer, you can get freelance gigs on websites like Fiverr, Upwork, Clearvoice, and Darren Rowse's Problogger network.
Another thing is, it's a side hustle and it's not a passive income stream unless you have a team of writers to work for you. 
Making $3k a month off freelance writing is not a big deal. 
12. Apartment leasing. 
If you have a nice apartment, you can make money off it by leasing it out. 
The juicy part is, people are willing to make as much as $200/night for your apartment. 
If your apartment is lit and cool and luxurious, then you can expect to earn $300 to $600 for a night depending on the degree of luxury and the location. 
To get started, you simply put your apartment in good shape and list it on Airbnb for leasing. 
While getting offers isn't guaranteed every day, you can meet good clients who'll be willing to pay thousands of dollars to stay for multiple days or weeks. 
You can sort yourself out with the money they paid. 
Plus, if you have multiple apartments or you have a friend you can live with, better. 
13. Pet sitting. 
I don't love pets.
I don't do pets. 
But if you love pets, then you can make money off your love and care for them by becoming a pet sitter. 
Of course this is a side hustle to make $100 a day, and you can turn it into your full-time job by actively looking for pet sitting or walking gigs. 
You can branch into other related gigs Iile house cleaning or housekeeping, babysitting and whatnot. 
But branching out, you'll get more gigs rather than staying pigeonholed as a pet sitter. 
It's way possible to make $100 dollars a day sitting pets, and you can do this on the side from time to time to get extra cash. 
To get started, you can look up gigs you can do on Sittercity, Rover, Indeed, Care, and Craigslist. 
14. UX designing. 
This is another side hustle to make more than $100 dollars a day but you're not going to be making money passively. 
You work for clients and you get paid as a UX designer. 
One reality of side hustles that aren't passive income oriented is that you don't get them easily, and when you do, it's not everyday. 
But the thing is, a single gig can get you over $100 dollars. 
With UX designing and if you're good at it, there's a tendency to make over $3,000 dollars from a gig depending on the client and the nature of the project. 
To find UX designing gigs, you can search through Craigslist, Indeed.com, Google Jobs, Fiverr, Guru, and Toptal. 
There are several places to look. 
But if you want to make a full-time income from this, then consider setting up your entire online profile to reflect the personality of a full-time UX designer. 
Get your portfolio intact, set up your social media profiles, get your business cards, make flyers to share offline, and promote your services online using paid social media and Google ads. 
15. Print-on-demand shirt sales.
Designing t-shirts online is one way to make passive income. 
But it might not work for you if you're not the patient type. 
This means you'll be working with print-on-demand platforms like Zazzle, Printful, CafePress, Teespring, and Printify to sell t-shirts or clothing designs you make. 
All you have to do is to design, design, and design. 
When people visit your store and they like what they see, they place an order and the platform prints and ships the order. 
A code to getting more sales with this side hustle is to design as many clothes as you can on these platforms; focus on one platform – the one with the highest largest audience. 
So, you want to create designs around events, seasons, sports, religions, quotes, and more. 
When you have a monster database of designs, you'll be able to cater for the interest of a larger audience especially with a well defined stock category. 
Once you have this in place, you can promote your store on social media to get more visitors and amplify sales. 
16. Gutter cleaning. 
Cleaning gutters isn't a difficult job, but you can easily make $120 to $200 a day doing it. 
You learn how it works, get your tools and source for gigs online using platforms like Craigslist, Indeed and some other job boards active in your city. 
In the US, it's possible to take in around $5,000 a month from this side hustle. 
You can do it as a full-time job too, and the only difference would be the degree at which you source for gigs and promote your services. 
Just like other active income side hustles on this list, you work for the money unless you have or run a gutter cleaning agency. 
If you don't, then you do the bidding yourself. 
Plus, gutter/roof cleaning gigs don't come in every day. 
They could come in more frequently if you channel more effort towards promoting your services online and offline. 
Recommended: 12 Best Jobs that Pay $6,000 a Month
17. Delivery gigs. 
Whether you have a bike, a car or a scooter, you can make $100 a day off this side hustle as a delivery agent for services like Doordash, GrubHub, Postmates, and Instacart. 
Getting paid up to $25/hour, you just need to work a few hours to reach $100/day. 
It's not all that easy to make money working as a delivery agent because you'll be driving or riding from one client to the other with packages to deliver. 
It's basically a call and response gig where you see delivery orders from these services and work to fill them by picking and dropping them off at customers' apartments. 
17 Best Side Hustles to Make $100 a Day – Final Words.  
Rounding off, some of the best side hustle to make $100 a day include print-on-demand shirt designing, UX designing, pet sitting, gutter cleaning, delivery gigs, apartment leasing, blogging, affiliate marketing, ride-sharing, course sales, social media influencer, YouTube content creation, online trading, online tutoring, lawn mowing, landscaping, and freelance writing. 
There are other side hustles to make $100/day, and you could make more if you want to, especially by focusing on the methods that guarantee passive income. 
The passive income methods right on this page include blogging, affiliate marketing, course sales, and YouTube. 
They're relatively cheap to start and they take longer time to mature enough before you're seeing positive results for your efforts. 
Much more than making up to $3,000 a month, these passive income methods which you can start as side hustles can transform your financial status if you do them the right way. 
Luckily and with the help of the internet, there's more than enough resources to learn from. 
So, you want to start either with a blog, a YouTube channel, or both of them (which is more demanding). 
With a high traffic blog or a mega YouTube channel, it'll be easy to make money from affiliate marketing, and course sales (passively on all four ends).