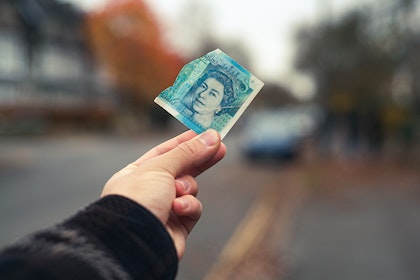 Wondering how to make an extra £1,000 a month in the UK? 
Then you're just about to get really served. 
This article provides you with some of the best methods to make this a reality for you. 
Recommended: 12 Best Jobs that Pay £70k a Year in the UK
While £1,000 pounds isn't a lot of money in the UK with taxes, it's quite some money without taxes where you keep 100% of everything. 
So, how can you make an extra £1,000 a month in the United Kingdom even if you already have a full-time job or something you do primarily? 
Check out these methods. 
How to Make an Extra £1,000 a Month in the UK: 12 Real Methods.
1. Ride-sharing. 
Ride-sharing for sure is one of the most realistic ways on how to make an extra £1,000 a month in the UK. 
If you have a car, you can register with ride-sharing services in the UK like Bolt and Uber. 
On average, UK ride-sharing drivers make £2,100 pounds. That's just the average from a little math I did on my own. 
But then, you can generate up to £3,000 pounds a month if you're able to take home £850 per week as a ride-hailing/ride-sharing driver for Uber, Bolt, or both. 
So, if you decide to work less and make £250 per week, that's just £1,000 pounds a month. 
If you work more (which you should), that's over £3k pounds a month (with earnings hovering £850 or £800 per week). 
The more you work, the more you earn driving for ride-sharing services.
A tip to earn more is to work for longer hours or work all day so that you'll know what time of the day the most money comes in. 
On days where you want to work less, you can still make a sizable income by working around those money hours. 
2. Blogging.
Another way on how to make an extra £1,000 a month in the UK is to start a blog. 
It takes time to make money blogging, and it's going to be tougher going forward especially with Google planning to spin off their AI search engine. 
That's by the way, but it matters too. 
The good news is, blogging is still viable and the best time to start a blog is right now.
Like, not tomorrow. 
Now. 
It's not like you're going to make £1,000 pounds once you're done setting up your blog. 
No. 
You slowly build your blog online like a business. 
From time to time, you'll have to publish relevant and insightful articles just to pull in more visitors. 
And by the time you're having your first few blog visitors of up to 100 visits a day, you can incorporate monetization strategies like affiliate marketing and put ads on your blog to generate passive income. 
You can balloon the figures you see on your earnings dashboards by putting more effort into growing your blog consistently.  
Blogging is fun, and you can do it on the side of your full-time job (if you've got one). 
If you want to start blogging today, this is the only guide you need to set up your blog. 
3. Drop-shipping. 
Drop-shipping is definitely another way you can make an extra £1,000 monthly in the United Kingdom. 
You don't need to have a location to start this business and you can set up everything from your bedroom or living room. 
Or from your cubicle. 
Whatever. 
The point is, drop-shipping is profitable enough to make you an extra £1k a month in the UK or anywhere else in the world. 
It's basically passive income and it's different from other models of online businesses. 
You build a store online and drive traffic to it by promoting the products in the store. 
There's a learning curve to successful drop-shipping, and one you'll need to undergo before anything else. 
4. Barbering. 
I'm moderately good at barbering.
I'm good at a lot of things including playing the piano. 
I own a barbershop that earns me money every month. 
I have a staff there. But it's not making up to £1,000 a month for several reasons. 
Mostly personal reasons coupled with commercial reasons. 
However, you can start a barbershop in the UK if you're a barber or if you have the experience of starting a business like that. 
It's not a cheap deal to have one, and you'd be spending a chunk of money to design and to promote your barbering business. 
If you start off from a busy location or the right location, you'd easily be making 4 figures (assuming you're good at creating customer relationships and grooming hair like a pro). 
5. Graphics designing.
Graphics designing joins the list of skills you can acquire if you want to make money online and offline too. 
But it's a digital skill apparently, and it takes months to master. 
So, if you're in the UK right now and you want to make an extra £1,000 a month, this is a skill you should consider acquiring. 
If you're good at graphics designing but you don't know how to make some extra income in the UK, then consider signing up on websites like Craigslist, Upwork, and 99designs to get remote gigs or jobs that pay well. 
Working as a freelance graphics designer from the UK is rewarding – you make money and learn more along the line. 
If you have all the time to look for remote jobs and freelance gigs online, then you'd be able to make more than £1k every month. 
6. Affiliate marketing. 
I like the concept of affiliate marketing basically because you don't have to create anything, but you make money from the sales of products created by other people and other companies. 
As an affiliate marketer, you can make an extra £1,000 per month by promoting affiliate products. 
These products generate commissions for you whenever they're sold. 
Plus, affiliate marketing has become one of the fastest ways to build passive income in the online world today. 
Depending on your marketing skill as an affiliate marketer, you can generate as much as £20,000 a month in the UK. 
On average, UK affiliate marketers earn about £3,447 pounds. 
The more you learn about affiliate marketing and how to do it the right way, that's the more money you'll earn potentially. 
7. Programming. 
Are you a good programmer? 
If you are, then you can make an extra £1,000 a month in the UK by working online as a freelance programmer. 
The key is for you to be good at programming. 
People are willing to pay you several thousand pounds for a single project. 
If you're that good, you can earn up to £10k per project – depending on the nature of the project though. 
Programming is a very pertinent part of web development, and with entrepreneurs trying to get into the software & tech space, the need for programmers is on the high. 
If you're the lazy type – you don't work often or find freelance gigs – making £1k per month can be a bare minimum. 
And if you don't make any attempt at freelancing, then your earnings can easily be… crickets.
8. Course sales. 
Selling a course or a set of courses online is one of the many ways to generate passive income in the UK or any city in the world. 
Basically, it's a one-time upfront work, and you can continuously update your course with time. 
If you've got something that people are willing to pay to learn, then you should really consider creating a course around it. 
With the help of tools like Thinkific and Teachable, you'll be able to easily structure and present your course to a relevant audience. 
The more meaty your course, the more money you'll make even from the little sales. 
But if you have a platform and you're already a name, launching your course can bring in 5 figures (or more; or less) monthly. 
9. Freelance writing. 
Freelance writing is a way to make money in the UK and anywhere else in the world. 
But it's not one of the ways to become rich quickly if you want to. 
And it's not a passive income stream unless you have a team of writers working under your freelance writing agency. 
If that's not the case, then you'll need to work to earn as a freelance writer – but you'll be working from home (or working as a digital nomad). 
Just in case you're asking, freelance writing can generate as much as £5,000 pounds a month for you. 
It's a place to look at if you want to make an extra £1k/month, and you don't have to pay a dime to get started. 
Simply find writing gigs on LinkedIn, Upwork, Craigslist, Indeed, Google Jobs, Freelancer, or Fiverr. 
Plus, freelance writing gigs don't come every day – you don't get gigs everyday. 
10. Proofreading. 
If you're good at fishing out grammar errors off documents, then you can make an extra £1,000 pounds in the UK working online as a freelancer. 
It's easy to get started, but it can take some time before you're getting your first gig. 
Start by signing up on freelance marketplaces; websites like Fiverr, Upwork, and Craigslist. 
Apply for as many gigs as you can, and keep doing so on other marketplaces like the premium Flexjobs. 
You can also find remote jobs online as a proofreader on job boards like Indeed, LinkedIn, and Google Jobs. 
On average, a proofreader in the UK can earn as much as £3,745 pounds. 
But you'll earn more if you do more. 
11. Onlyfans modeling. 
Modeling is pleasurable. You get to see the beautiful humans on display and you appreciate it. 
On onlyfans, explicit content pays. And this means explicit modeling. 
So, you build a fan base on the platform and people pay monthly to subscribe to your page so that they get access to your uploads. 
You can choose to do explicit content or post really interesting stuff on the platform that people are willing to pay to access every month. 
This kind of content is mostly explicit. 
On OF, models average around £7k per month to £10k. Some of the highest earning OF models generate millions annually. 
Recommended: 12 Best Jobs that Pay £70k a Year in the UK
12. Online trading. 
Trading the financial markets online is a way to make £1,000 a month in the UK, and you can become rich quickly by doing so. 
This isn't another hype. 
And you can read about the juiciness of the financial markets on your own. 
The truth is, it takes time to be good enough to consistently make gains from trades. 
Some of the markets to trade (if you want to make an extra £1,000 pounds in the UK) include crypto, forex (my best bet), the stock market, options, and indices. 
However, I recommend you go with Forex and Crypto. Take my word for it. 
And if I have a third spot, that'd be the stock market. 
How to Make an Extra £1,000 a Month in the UK: 12 Real Methods – Final Words.
Coming in as the last paragraph for this blog post, there are several methods for you to make an extra £1,000 a month in the UK. 
And some of them include trading the online financial markets, OF modeling, proofreading, freelance writing, selling courses, programming, affiliate marketing, ride-hailing, blogging, drop-shipping, barbering, and graphics designing.
Now, you're not just going to make £1k in your very first month. 
You might, you may not. 
There are different variables. 
But if you're the patient type, you'll print several thousands with time. 
Similar posts like this one
Working a 7am to 8pm school & home teaching job in 2021 to make $121 (£94.20) per month, I quit my job to focus on blogging after I earned by first $3 (£2.34) bucks a month from this blog passively without sweat. I never looked back since then. I've written for a couple of websites including Thestrive.co and I've come clean to unveil what works and what doesn't in the real world with regards to making life-changing money. Potentstack is my side hustle turned full-time project where I spill every realistic hack to make money in the real world (online and offline).
Want to learn how I make money blogging? Click here.