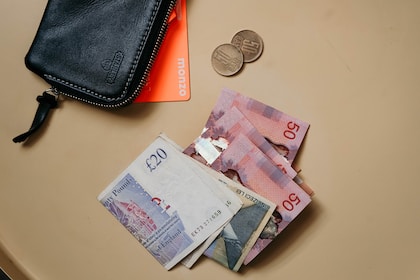 If you're in the UK right now and you want to make money, you should stick around on this blog for some time. So, in this article, I'll be sharing some of the best jobs that pay £30,000 a year in the UK. These aren't jobs that you apply to get. They're self-employed jobs and you do them on your own. 
Recommended: 12 Best Jobs that Pay £50k a Year in the UK
So, I'm giving you freedom for your time right in this article. If you can put in enough work, then you get to make even more money over the course of them. 
That said, here are 11 best self-employed jobs that can generate as much as £30k/year (or per month) for you in the United Kingdom.
11 Best Jobs that Pay £30,000 a Year in the UK
Blogging
One of the best self-employed jobs that pay £30,000 a year in the UK is easily blogging. You can start a blog and generate passive income of up to or more than £30k a year. And the thing is, it takes time to build a blog from scratch to £2,500 pounds every single month in the UK. 
Blogging is fun, but to make life-changing amounts of money, you'll need to take it like a job (like I'm taking Potentstack the moment I started making less than £3 pounds a month from Google ads). 
So, you stick to the basics of blogging which is to provide quality content over the long haul, and to find ways to build your blog's ranking capacity or authority by building good backlinks.  Making money from a blog requires patience, and hard work over time. 
You can speed up the process, but it'll be more upfront work by building tons of backlinks so that you're ranking very high for a few high search volume keywords. I'll tell you this if you haven't started blogging just yet; blogging can give you financial freedom. 
And while I'm writing about making £30k a year from a self-employed job, you can make £30k a month with a blog if you stay committed to building it out. So, if you haven't started blogging yet, this is the right time for you to get started. Plus, this is the only guide you'll need to set up your blog right now. 
Freelance Writing 
Are you good at writing? 
Are you a prolific writer? 
Then you can make £30k a year taking this up as a self-employed job or a side hustle. Freelance writing is free, it's cheap. You don't need to pay a dime to get started. 
All you do is to search or source for jobs or writing gigs on freelance marketplaces. And some of the best places to get writing gigs include Upwork, Freelancer, Fiverr, Truelancer, and Indeed. 
You basically charge per word. 
So, depending on your freelance writing experience and portfolio, you can charge anywhere from $0.01 or $0.02 to $1 dollar per word. However, you'll need to be patient enough to get your very first gig as it's usually challenging for newbie freelance writers. 
Ride-hailing
If you've got a car, then you already have a tool to initiate the self-employed job that can pay up to £30,000 pounds a year in the United Kingdom. 
Ride-sharing is a way to make money if you're signed up with any ride-sharing service. In the UK, you can work with Uber and Bolt to make money daily just by driving around, taking passengers to their different destinations. 
On average, you can earn £15/hour in the UK as a rideshare driver. If you do 8 hours on the road, that's £120 pounds a day or £3,600 in a month. In one year, you would've made £43,200 pounds, which is 44% more than £30k. 
Landscaping
If you're good at landscaping, then you can make money from this in the UK. Landscaping can easily become a self-employed job for you that makes over £30k pounds a year. If you're a pro at this, then making around £70 an hour. 
The downside to this gig is that you won't get jobs every single day. But when it comes, you could make a lot of money. So, in a month, you could do 80 hours of landscaping activities. 
If you do the math, that's £5,600 a month. If we bring the figure down to 50 hours a month, that's £3,500 a month or £42k a year in the UK. You could make more or less and this is depending on your skill and marketing strategies – you'll need to promote your services and also find gigs online to constantly be in the working zone. 
Event Planning 
Planning events doesn't take rocket science calculations, but it'll be impossible for an introvert. To make it big in the event planning industry, you've got to be outspoken. The point is, event planning is a self-employed job or a side hustle that can make £30k a year in the UK. Basically, you'll need to work with professionals in different areas – chefs, MCs, DJs, ushers, musicians, and more. 
So, if you want to get into this field, be ready to have a long list of contacts or professionals you can work with from time to time. A lot of them with their different price ranges. Event planning can make you money, so learn what it takes to become a successful event planner in the UK. 
YouTube Content Creation 
Content creation on YouTube is lucrative, and looking at the fact that opening a YouTube channel is free, it's more mind-blowing. 
People generate over £15k and even £60k a month in the UK from their YouTube channels by creating real content; engaging content. So, if you like to get in front of the camera, then you need to start a YouTube channel right now. 
It's not just about starting one though, it's about growing it. It's possible to make £30k a year from a 1 year old YouTube channel. It's also possible to make less or more. 
And this is determined by… guess it – you. 
So, if you're passionate enough, you'd learn how to grow a YouTube channel fast, and how to monetize your content effectively. 
While it's possible to never show your face in the camera and still make money on YouTube, it's much easier to build a more engaging audience when they know who you are. 
Programming
Programming also joins the list of the self-employed jobs that pay £30,000 a year in the United Kingdom. If you're a programmer, you can work remotely for companies or individuals, and get paid doing this. 
You can also work as a freelancer online, and it'll be easier to get gigs because the demand for programming or coding services is higher than the demand for writing or marketing services. This demand also pays more mostly. 
One last way you could make even more money as a programmer is to create an information product to teach people about what you do. An information product like a course or a tutoring program online for people to join in on for a fee. 
If you're really good, then you can program up a software of your own to solve a problem or make life easier for a particular audience. 
The essence of software development is to make life easy by solving a problem or providing some sort of value. 
Podcasting
So, starting a podcast in the UK is a way to get famous and a way to make passive income too. You can make audio podcasts, but I'll recommend making video podcasts because people get to see your face and you can post it easily on social media. 
One way to quickly go viral with video podcasts is to creatively address trending events, push your opinions out there and bring other voices on board on your video podcast. 
The more people you bring on board even if they're not as famous as Conor McGregor, that's the more eyeballs your podcast is going to get because these people will go on to share the videos on their pages too. 
The point is, you can make much more than £30k a year in the UK from podcasting. And there are several ways to monetize your podcasts be it video or audio based. 
Forex Trading 
Forex trading rings a bell now especially since I started learning all I can about it while I create content here for you. It's one of the jobs that can make you £30,000 a year in the UK. 
Honestly, if you're a good Forex trader, you would be able to make this in a single week. And some traders make £30k+ a day with no problem. But overall, the size of your trading account matters too. If you have a small account, don't expect to become a forex trading millionaire. 
Stick to making £30k a year or £2,500 a month, which breaks down even further to £84 pounds a day in profit. If you've got a daily profit threshold of £100 with a trading account of £5,000 pounds, that's realistic. 
In a month, you have £3,000 dollars or more if you're a good or an average trader. This is because you'll be trading with less risk comfortably without the fear of blowing your trading account. 
Affiliate Marketing
Affiliate marketing is a really cool way to make passive income online. Trust me, it's definitely one of the best self-employed jobs that pay £30k a year in the UK. 
You could make more if you understand what affiliate marketing means and if you're willing to learn more about it by watching videos and reading up blog posts from reliable sources. 
Affiliate marketing has nothing to do with spamming forums and posting links on every social media page. This could work 1% of the time, but you'll be missing out on 99% of opportunities that would've come from doing it the right way. 
Just to wow you, it's commonplace for affiliate marketers to generate £10k+ per month, and you don't have to leave your home to make this work. It's profitable, and the more you learn, the better you get at doing it. 
Recommended: How to Make £3,000 Fast in the UK: 10 Aggressive Methods
Social Media Presence Monetization 
If you have a large following on social media, you can turn it into a self-employed job that pays £30,000 a year in the UK, and it could pay more if you know exactly what to do. Basically, the more followers you have, the more money you'll make. 
And some of the ways to make money as a social media influencer is to promote affiliate products, sell your own products, and work hand-in-hand with advertisers to post sponsored content for a fee. 
You'll see more results with affiliate marketing and with selling your course if your audience are the really engaging type and you have a good reason to sell them a product. 
If you're popular for doing nothing but dancing, it'll be hard to promote products, you could, but the results would be nothing compared to an influencer who got famous reviewing the latest tech gadgets or cars or the latest tools affiliated to a particular niche. 
11 Best Jobs that Pay £30,000 a Year in the UK – Summary 
In a nutshell, some of the best jobs that pay £30,000 a year in the UK include social media marketing, affiliate marketing, forex trading, podcasting, programming, YouTube content creation, event planning, landscaping, ride-hailing, freelance writing, and blogging. 
While all of these are self-employed jobs to make as much as £30k/year in the UK, some of them could generate as much as £30k every single month if you scale them up.